There are many built-in tools to troubleshoot Windows 10 problems, but not equal to Windows 10 problems in numbers. You may involves with problems when you work with Windows 10 on your daily works and activities, but don't know to find and fix common problems.
The problems in Windows mostly comes from hardware, software, sound cards, drives, network adapter, updates, configuration and non compatible apps or even sometime get errors without any reason! So in this article we are going to test the Windows troubleshooting tools and options to troubleshoot Windows 10 problems.
Troubleshoot Windows 10 Problems
These tools are all located on Windows control panel. Simply open and navigate System and Security>Security and Maintenance>Troubleshooting.  Some tools are not generally visible. You just run it through command line or typing it's shortcut name's on the Run.
1. To open troubleshooting page, search Troubleshooting on Windows search and open it.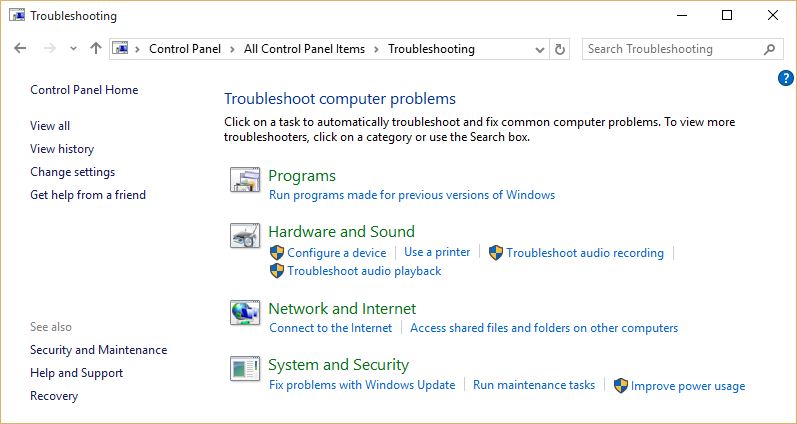 In Windows 10 troubleshooting window you find some tools that help you find and fix Windows 10 errors. Let's test them one by one and find out how these tools can help to troubleshoot Windows 10 problems. This tools are automatically troubleshoot and fix common computer problems and errors. 
1. Troubleshoot Programs Problems
This troubleshooting tool will help you to make an old software compatible with Windows 10 and run it smoothly. The old software are works perfectly on the old operating systems but in Windows 10 they may not work properly.
Click on Run programs made for previews version of Windows to open the program compatibility troubleshooter and click Next.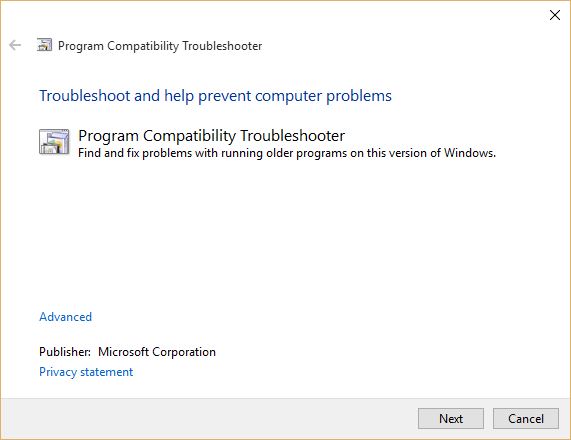 2. Select the the old program's that is not work properly on your Windows 10 system. For instance I have selected Cisco Packet Tracer. Finally click Next to go to next page.
3. Now on the troubleshooting option page, select the first option Try recommended settings and this will suggest you the recommended settings that software can be run and work properly.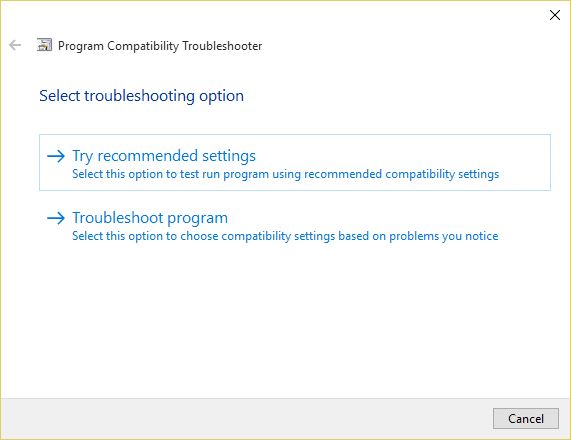 If the recommended setting is not affect or couldn't fix the problem, select the second option. The second option will let you choose different operating system mode to run your software.
4. On the Test compatibility settings for the program click Test the program.  If your software executed and works properly with this settings mode, click Next and save these settings to run program always with these settings.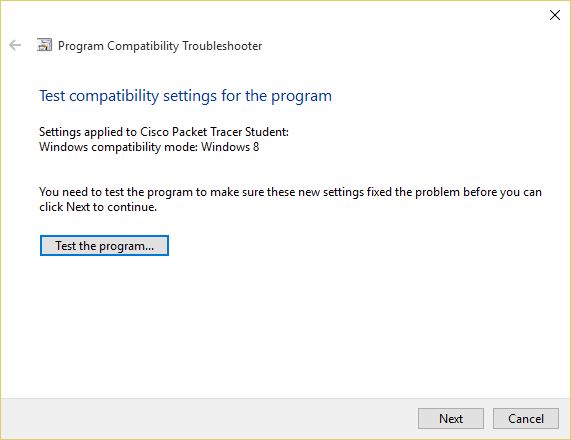 Yes, this is the best option to troubleshoot compatibility's of old programs in Windows 10. It's recommended to work with program compatibility troubleshooter in order to learn more.
2. Fix Hardware and Sound Problems
The most common hardware and sound drive errors will be fix and solve from Hardware and Sound section. These are also automatically fix common problems. Just run the task and continue to fix common problems.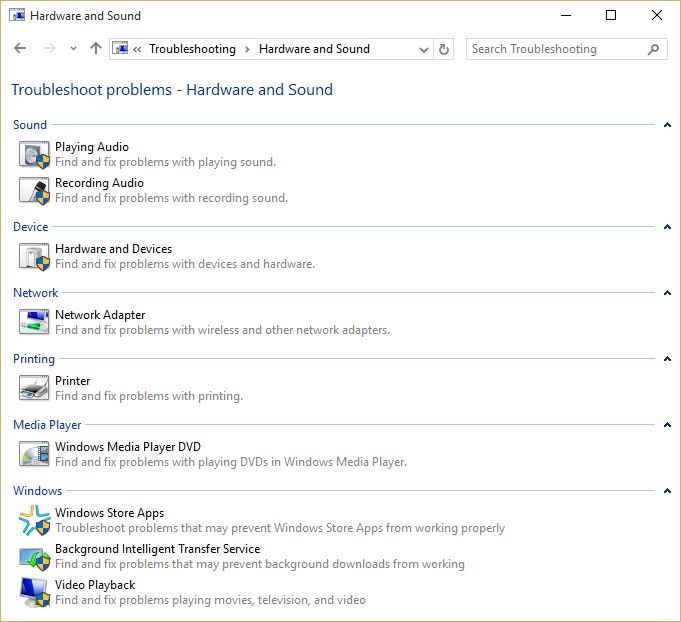 Sound
Playing Audio: It will find and fix problems with system playing sound card. If the sound card driver has been installed and updated, it will not issue any errors.
Recording Audio: Test and fix problems with your microphone or other recording system. It will automatically fix the mic problems.
Device
Hardware and Devices: This tool try to find and fix problems with devices and hardware. The devices and hardware problems are drivers. If a devices driver is not installed or not updated, it will not work properly. So run this tool to find and fix common hardware problems.
Network
Network Adapter: Do you have network connection problem? If yes, just simply run this tool to find and fix network connections problems. Remember, if your system network drive is not installed, this troubleshooter tool can not detect any network adapter. So try to install the network card drivers first.
Printing
Printer: It will find and fix your printer problems. When you run this tool to troubleshoot your printer problems, select the exact printer you need to fix the issues.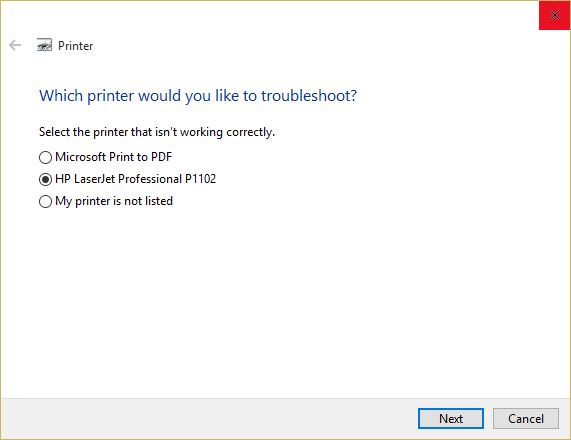 Media Player
Windows Media Player DVD: I almost forgot my system DVD player because it's along time that I'm not using this piece of hardware on my systems. So this section can help you to find automatically problems of DVD player on Windows 10.
Windows
Windows Store Apps: It will find problems with Windows store apps. Sometime the Store apps are not work properly. Try to run this tool to find and fix the problems. You must be log in as Microsoft Outlook account, otherwise it will not work to troubleshoot Store apps issues.
Background Intelligent Transfer Service: BITS transfers files (downloads or uploads) between a client and server and provides progress information related to the transfers. You can also download files from a peer.
Note BITS is most commonly used by Windows to download updates to your local system. So you can troubleshoot Windows updates with this tools too.
Windows Play Back: This tool will help you to find the media player codes and TV related hardware problems.
OK, this are all the tools you can use to fix most common problems of Windows 10 hardware and sounds. Let's see the next steps.
3. Network and Internet Problems
The most common problems you may always involve with is network and internet connections. To find and fix network and internet connections in Windows 10, try to use the following tools and options. Let's see these tools one by one.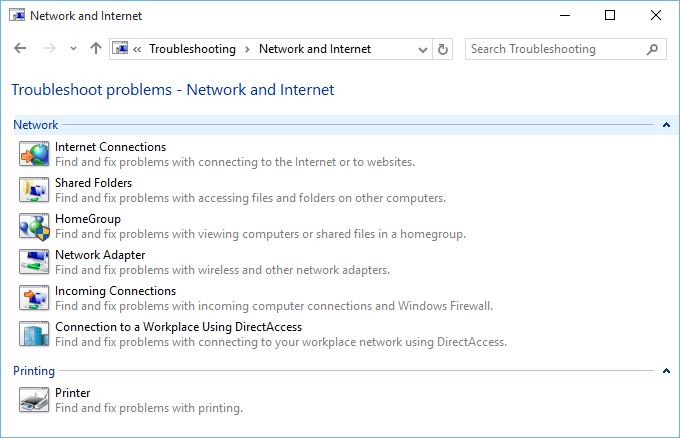 Network
Internet Connections: The internet connectivity can be find and fix with this tools. Sometime you DSL Modem or Wireless Router is configured correctly but again you can access to internet or a specific website.
Share Folders: It will help to troubleshoot file sharing problems on Windows. You can do test to get access to a shared folder or file on other computer.
Home Group: The home will create and join all your home devices in order to access personal files, library, documents over all devices. You can troubleshot problems of HomeGroup with this tool.
Network Adopter: I have explained about network adapters on first sections.
Incoming Connections: This is related to Windows Firewall and incoming connections inside Firewall. Testing share files or folders, remote desktop problems, and network discovery to find your computer visible for other computer on the network.
Connection to a Workplace Using Direct Access: This is a bit pro for IT experts and Tech Geeks. Troubleshoot VPN connections, Direct Access, and other remote connections such as remote desktop and remote assistance.
You need to know about Wireless configuration and connectivity problems also. The wireless security and problems are mostly occurred on mobile devices.
4. System and Security Problems
This section is related to internet explorer safety, system maintenance, Windows power options, search and indexing, and Windows update problems. Each of them have it's own step by step guides. But we are going to overview all to know the functions and usages. Usually using this auto fix problem tools are not hard, everyone can use these simply.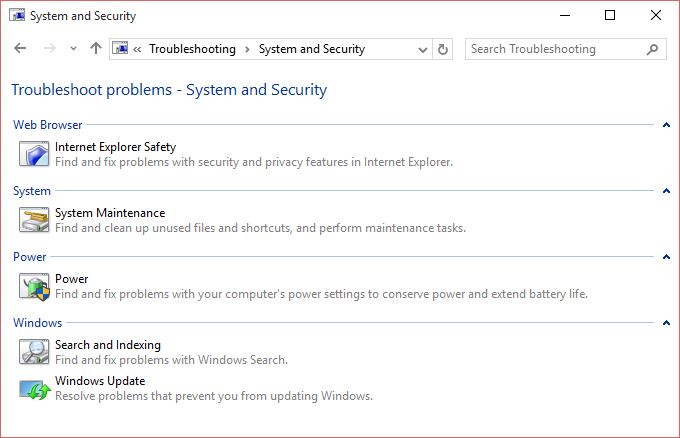 Web Browser
Internet Explorer Safety: It not more time to use internet explorer on Windows 10. But you can find and fix problems from here. The recent web browser of Microsoft for Windows 10 devices is Edge.
System Maintenance: Is use to find and cleanup on wanted software and software shortcuts from your system. The software shortcuts are created with you install a software on your computer. If you delete or remove the directory of software, the shortcuts and cached files will remain on your computer. You can safely remove and cleanup with this tool to troubleshoot Windows 10 problems.
Power: It find and fix problems with your computer's power options and settings. It is a good option to troubleshoot power option to conserve power and extend battery life of Laptop and smartphones.
Search and Indexing: Improve your Windows 10 searching result with indexing options. Read the full guide to Indexing Options.
Windows Update: Try to resolve problems of Windows update with Windows update troubleshooting tool to troubleshot Windows 10 problems related to Windows update errors.
These are the common tools that help you to troubleshoot Windows 10 problems at home and networks. You may faced with more problems that make your system crash or blue screen. Just comment us your Windows 10 problems title. We try to help you fix them in easy way. And finally, hope you find the article helpful and informative.