In Windows Operating Systems, the System Restore and Shadow Copies are used to create restore points to return your system files and settings to an earlier point in time without affecting personal files. This functionality is by default enabled from when you install the Windows OS. The system restore points are created automatically every week, and just before significant system events, such as the installation of programs like Anti Virus, Office, Adobe software or device drivers.
But Shadow copy is not enabled by default, you must configure it before trying to using as system or file deletion protection. It just creates a copy from document files before brings any changes to the files. You can configure it to create preview copies automatically or manually. If you need to know more about Shadow Copy on Windows, read the article "How Volume Shadow Copy Service Works" from Microsoft Technet website.
How to Delete System Restore and Shadow Copies?
Deleting some other extra files of the system need to be done carefully. But for deleting System restore points you won't be worry, because it just removes the cached restore points which created by the times on the system when some changes happened. It keeps only the last restore point. To know how much disk space reserved by restore points. It depends on your system installation date. If you are using a system before 1 year, the caches might be reserved half of your system drive. To see the installation date of your Windows, type "systeminfo" command on command prompt (cmd.exe). It will show you the entire system information. Just find out the time on the installation of my system screenshot.

So to free such a huge space from the extra caches go to system properties > System Protection tab, under the protection systems you see the enabled one which Protection is On. To open the system properties, on the desktop right-click My Computer Icon and click Properties then click Change Settings link to the right side of the screen. Or simply type "Sysdm.cpl" on Run or cmd.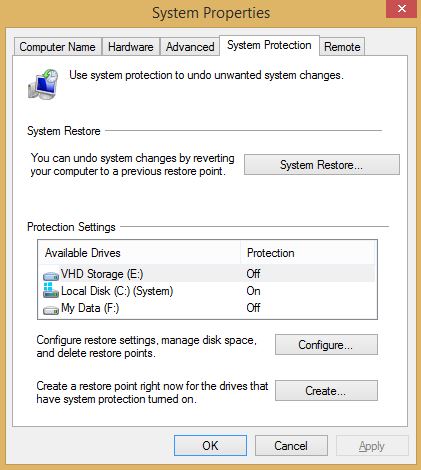 In my system it's only enabled for System drive. So let's try to delete it. In order to delete system restore and shadow copies, go to My Computer and right-click on Windows drive and then click Properties. When the local drive (C) properties opened, on General tab click Disk Cleanup. It takes a while to estimate the disk cleanup cached files. Read the articles about Disk Cleanup and temporary files " How to Clear Temporary Files In Windows System?. It is also a good practice to clean up the system.
So, on the Disk Cleanup page click Clean up system files button. Let the System cleanup page be open. Now on the Disk Cleanup for the drive (C:) Click on the More Options tab. You can see and delete System Restore and Shadow Copies from here. Just read the details and click Clean up button to completely remove and delete system restore and shadow copies.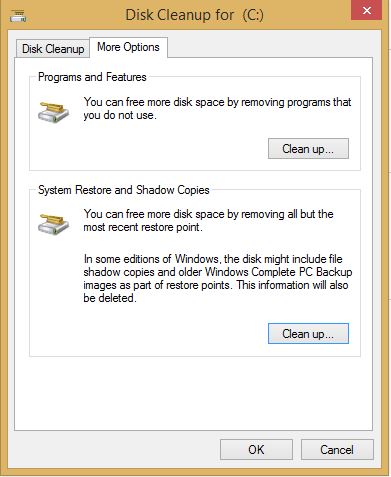 Now go to My Computer and check the system drive. It free up my system drive over 35 GB and I'm really happy. Do it on your system and get free your hard disk from cached files.
It is the result of my Server. 
If you have any questions or problems feel free and ask it through the comment.