In Windows 10 Indexing Options feature help you to perform very fast searches of the most common files on your computer. This feature is came with Windows 7 and works the same for all Windows. This is a powerful system wide search functionality for quickly searching files in a Windows 10 system.
It is the default settings of Windows 10 Indexing Options to index certain common locations on your drive, such as the Offline files, Start menu, User profile, and Internet Explorer browsing history.
You can modify and troubleshoot if your Windows search system doesn't work correctly. It is the common issue in Windows 10 that the search result is take too much time on case of miss configuration of Windows 10 Indexing Options.
Rebuild Windows 10 Indexing Options
The Rebuild option will help you to re-index and rebuild your search options. The index requires almost no maintenance. However, if the index can't find a file that you know exists in an indexed location, you might need to rebuild the index. Rebuilding the index can take several hours, and searches might be incomplete until the index is fully rebuilt.
1. Open Indexing Options from Windows 10 Control panel.
2. Click Advanced to open the advanced settings of indexing options. On the Advanced Options page click Rebuild.
It will possible to index encrypted files by selecting Index encrypted files under File Settings. The Treat similar words with diacritics as different words will suggest you more similar files and programs when you searching something.
Note: It's better to change the Index location to another disk. If you don't have disk, leave it the default location on system drive. To change the index location, simply type the new location or click Select new and navigate to new index location. 
3. To index file types, folders and contents, select the file types from File Types tab of Advanced indexing options. Also select the Index Properties and File Contents.
From this section you can add new file extension to current list or remove some current file extension for list.
To modify the current settings of indexing locations, select Modify on Indexing Options page and change the indexing locations.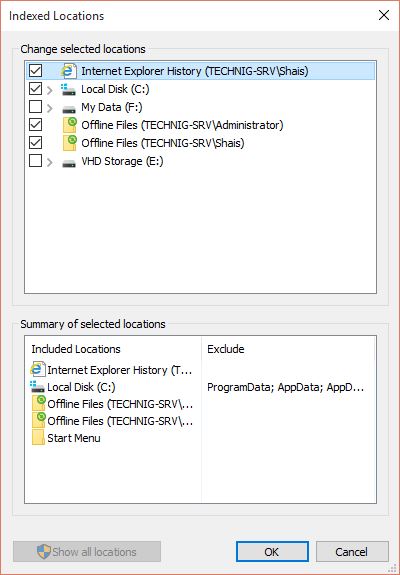 Finally, after applying changes to indexing options, it will take time the system index all new files and programs.
Try to improve Windows searches using the index. Hope this will help you to improve your Windows 10 searching result. There are more third party file explorer with a powerful searching options. But it's better to use Windows default and built-in search system.