How to Hide Files from Search Result in Windows 10?
One tips to keep private data secure and hide files from search result in Windows 10 is to exclude files or folder from Indexing Options. The search system of Windows 10 is improved quite enough to search and find everything from inside your system. It even able to search and find the contents of encrypted folders from your system drives. The other side Cortana also trying to learn your behavior in order to help you quickly find files, folder and access to apps.
But sometime you don't want the search display your private folders and files. You may need to excluded from other files and folders from search result. Windows 10 has a wonderful feature called Indexing Options. It will help your to hide files from search result or excluded your private folders from search result.
Hide Files from Search Result
If you don't want to showing up your personal files and folders on the search, simply configure indexing options to prevent indexing your personal files. It is the easiest way to keep something private in your system.
This method is only prevent the files and folder from showing up on search result. In order to keep your system more secure, try to enable Bitlocker drive encryption on fixed drives and enable Bitlocker on Operating system drive. The encryption technique is also best option in Windows to keep secure your personal files.
How to Exclude Folder from Search?
Let's do it with Windows indexing option from Windows Control panel. You want know more about Indexing Options in Windows 10, read the below article.
1. Navigate to Windows 10 Control Panel and open Indexing option. On the Indexing Options page you see the current folders and directory for search.
2. Click Modify to open the modify window. Expand the drive and un-check the folders you want keep private and don't want to show up on system search result.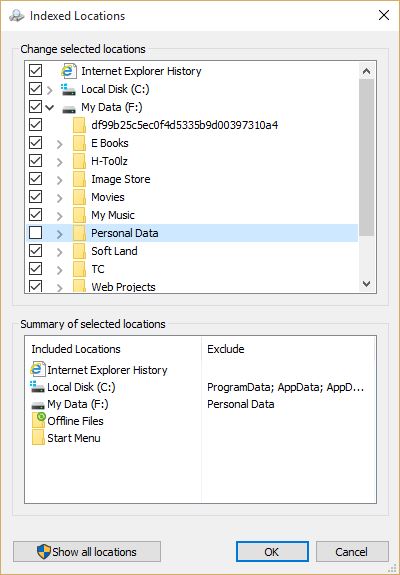 Finally, click OK to finish the changes. Let the indexing option rebuild the indexing again. It may take time to check and index everything again.
How to Hide File Types from Search system?
It's also possible to prevent search from showing up some file types on search result. It is best option to exclude non related file types which make search result a bit confuse.
Complete the task and click OK to close the window.
That's it, and hopefully you find this article helpful. Comment us the Windows 10 problems and get the how to guides.