How to Delete Windows 10/11 Update Files and Cached Data?
How to delete downloaded Windows 10 Update files Correctly
Remove or delete Windows 10/11 update files to free up system drive space and speed up your PC. When you update Windows, the update files are cached on your Windows system drive. You can manually delete Windows 10/11 update files or use a third-party application. The built-in Disk Cleanup feature in Windows is great for deleting Windows temporary files. However, to delete Windows 10/11 update files, you can use the Windows 10/11 Installed Updates section.
Related Articles: 
This is the most common problem users ask us about. We have explained how to fix it for previous Windows versions, such as Windows 8.1 and Windows 7. Fortunately, the same solution works for all Windows versions. So try cleaning up your system temporary files to speed up your computer's performance, especially Windows 10.
Delete Windows 10/11 Update Files
There are two ways to delete Windows 10/11 update files.
The first way is to delete an installed update file from Windows Update. This is sometimes necessary if an update is causing problems. To do this, open Windows Update and go to the "View installed updates" section. From there, you can right-click on the update that you want to delete and select "Uninstall".
The second way is to delete the update cached files in Windows 10/11 using Disk Cleanup. This will remove all of the temporary files that were created during the update process. To do this, open Disk Cleanup and select the "Windows Update Cleanup" option. Then, click on the "Clean up system files" button.
Delete Windows 10/11 update files and temporarily cached files:
Check Windows 10/11 Update files.
Delete an installed update file.
Remove Windows 10/11 temporary files.
Cleanup Windows 10/11 with Disk Cleanup
Follow the below step-by-step guide to delete Windows 10 update files, temporary files, and other cached files. Let's begin with uninstalling an update file.
1. Press Windows+R to open the Run and type "appwiz.cpl" on the Windows Run to open Program and Features. On the programs and feature page, select View installed updates.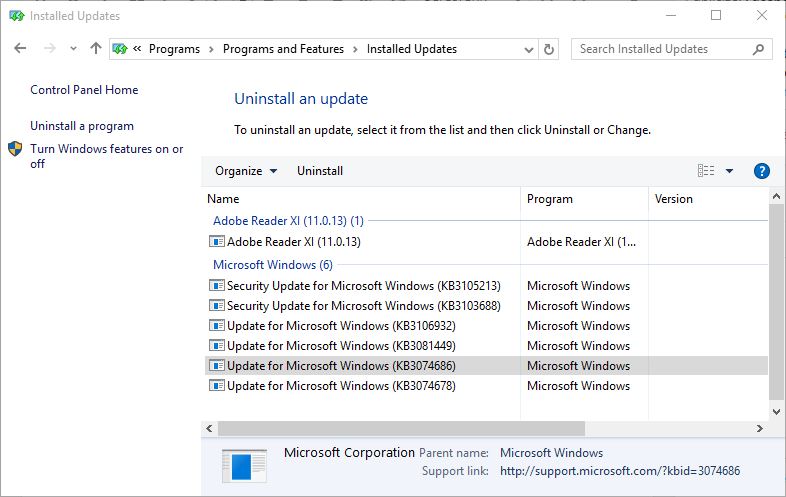 2. To delete an installed update, select and right-click the installed update you want to uninstall, then click Uninstall.
Note: Some Windows updates are not removable, you can't simply uninstall them with Windows Programs and Features section.
Remove Windows Update Files and Cached Data
This is the second method to delete Windows update files and other cached data or temporary files. Just follow up on the below guide.
1. Open your File Explorer (This PC or My Computer). Right-click the Windows system drive and click Properties to open the Local Disk (x) Properties. The system drive is where your Windows 10 has been installed currently.
2. On the Properties of the system drive, click Disk Cleanup to open Disk Cleanup for the drive (C:). Then select all from Download Program files to Thumbnail files under Files to delete. When you have selected all of them, click Clean up system files.
3. Now on the Disk Cleanup tab, select all options again, then click OK to delete all Windows 10 update files and temporary files.
If you want to delete System Restore and Shadow Copies, select the More Options tab and click Clean up to remove system restore and shadow copies.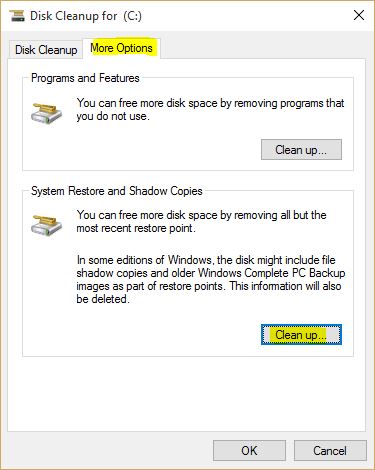 Remember: This action will remove all system restore points, you will not be able to restore to the preview point unless the system will create a new restore point.
4. Just click Delete Files to make sure that all files will remove successfully. Until it will not finish, don't close the process window or shut down your system.
5. Now all Windows 10 update files and other cached files must be deleted. Close the System Properties window.
That's it, easy and simple.
To do the same task or need to more about deleting system-cached files or removing Windows update files, I recommend you to read the below articles.
How to delete downloaded Windows Update files
This is the manual task you can do to delete downloaded Windows update files. It is easy to delete all cached update files. This works on all supported versions of Windows, including Windows 7, Windows 8.1, and Windows 10.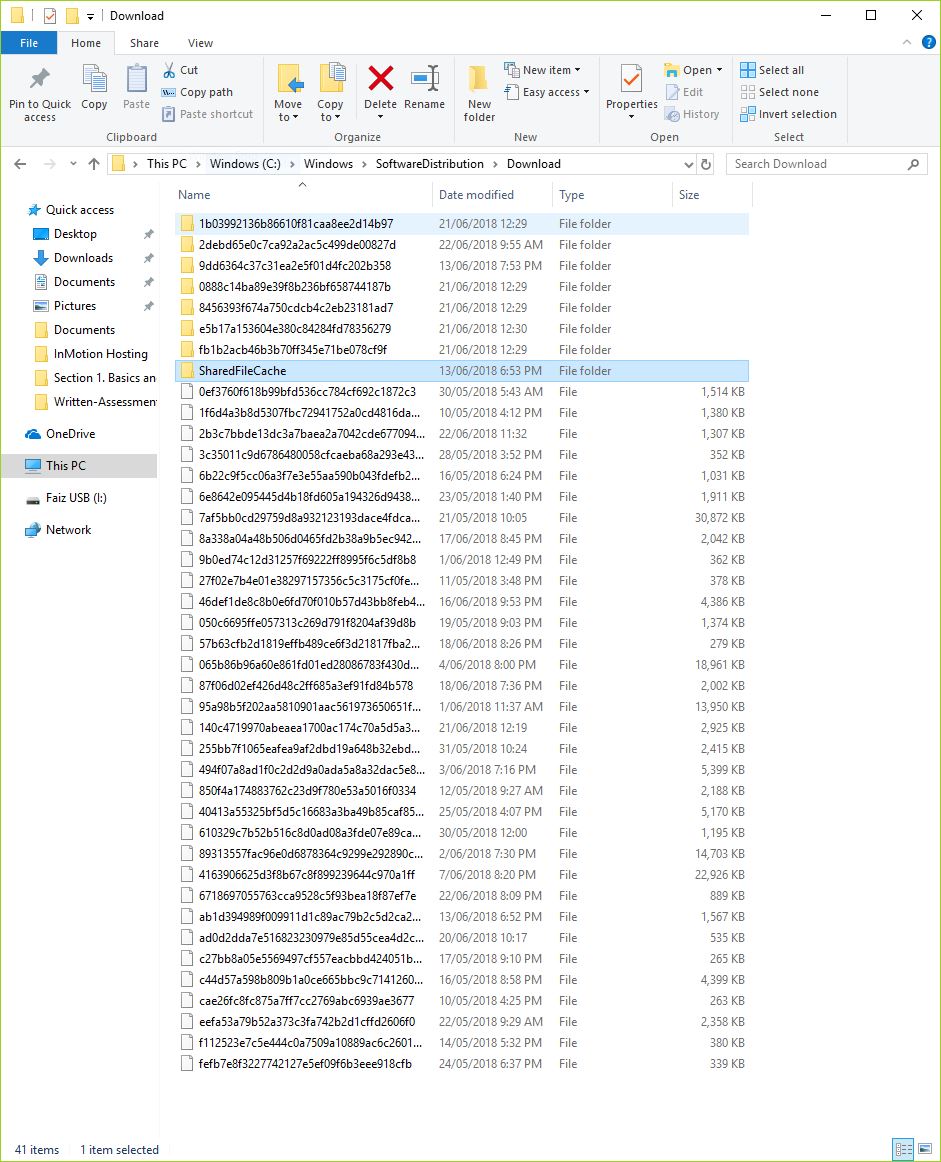 Open the Run.
Type services.msc.
Right-click on the result, and select "run as administrator" from the context menu.
Locate the Service Windows Update. The services listing is sorted alphabetically by default. Click on the name to revert the order so that you don't need to scroll as much.
Right-click on the service Windows Update and select Stop from the menu.
Go to C:\WINDOWS\SoftwareDistribution\Download using Explorer or any third-party file browser. If you navigate to the folder manually, you may need to enable the showing of hidden files first.

Do so with a click on File > Change folder and search options.
Go to View, and scroll down until you find "Hidden files and folders" listed.
Select "Show hidden files, folders, and drives".
Remove the checkmark from "Hide protected operating system files (Recommended)".
Click Apply, then OK.

Select all files in the folder. The easiest way to do that is to use Ctrl-A while the folder is active.
Hit the Delete key on the computer keyboard.
Windows may need administrator privileges to delete certain files. Select "Do this for all current items" and click Continues to grant the permissions.
Go back to the Services window.
Right-click on the Windows Update service, and select Start from the list of options.
Cleanup Windows 10 with third-party Software
PC Scan & Repair by Reimage software is also a good tool to completely scan and repair your computer. Download and install it then start scanning. The below screenshot is the scan results of my Laptop.
Also, there are more third-party apps that will do this for you, but doing Windows tasks with a built-in Windows app is better and free. It will let you discover your computer features and functions more.
---
Related Queries:
Delete Windows 11 update cache
Delete Windows update files Windows 11
Delete Windows update files Windows 10/11
Delete downloaded Windows 10/11 updates
Windows update cache location Windows 10/11
Windows 10 update files location
How to delete downloaded but not installed Windows updates in Windows 10
Clear Windows update cache and fix Windows updates