This is about how to share files between Linux and Windows. Previously I have written an article for sharing files between Ubuntu Linux and Windows 10. Another article about creates a network with Linux and Windows. But now you can read this about share files via Linux Mint to Windows 10 and Windows to 10 Linux Mint. This could be the final article about sharing files between Linux and Windows. Because this article going to cover file sharing on all Linux distro and Windows clients.
These two articles will help to solve most of your network and files sharing problems between Linux and Windows. So if specifically, you want to know sharing files via Linux Mint to Windows 10, follow this step by step article to share files between Linux and Windows.
How to Share Files via Linux Mint to Windows 10?
No matter what Linux distro you are using, the Samba file server works perfectly for all Linux operating systems. Just try to learn how to use this simple files server on your favourite Linux distribution.
To share files between Linux Mint and Windows 10, firstly you must install the Samba files server on Linux Mint it's not installed yet. By default, the Samba files server is installed on Linux Mint. So just try to share files.
1. Set the IP address to Linux Mint or get it from the DHCP server. I have connected my computer through a Wireless Router, so all machines get their IP address automatically.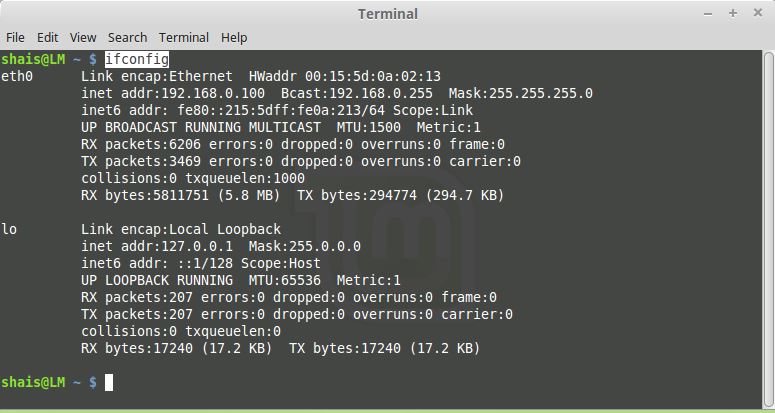 2. If the Samba is not installed, try to install it from the software manager or Terminal command line with the below command.
sudo apt-get update
sudo apt-get install samba
The Software Manager on Linux Mint is another option that helps you to install Samba.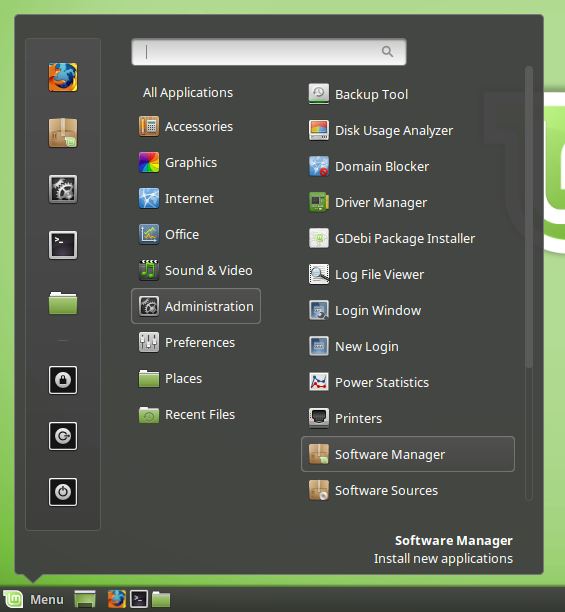 3. Create and share a folder on Linux Mint. This shared folder will be reachable from Windows 10 machine. To share a folder, right-click the folder and select Properties. On the Properties window select the Share tab and tick the check box of Share this folder.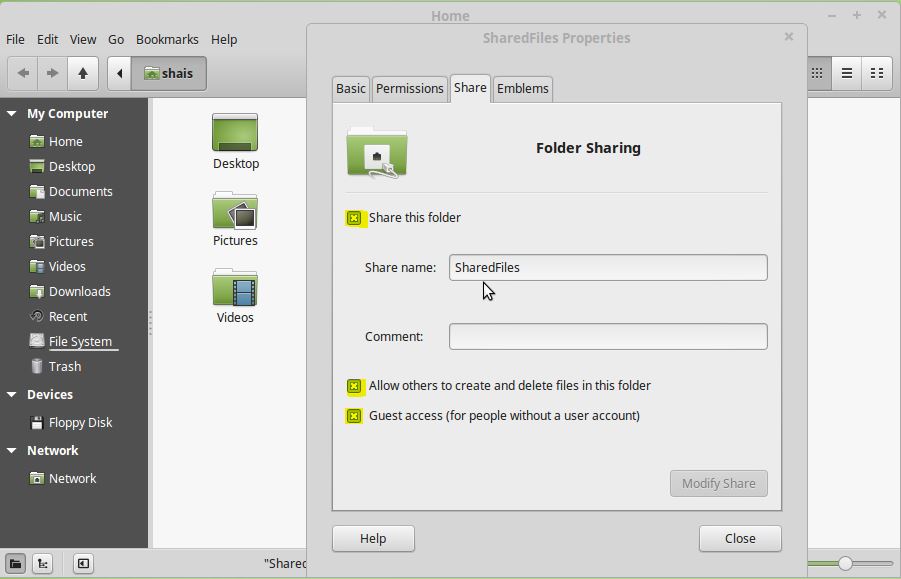 Change the permission to allow others to create and delete files in this folder also. Or the guest user has access to this Linux Mint shared folder. Finally, click Close to close all opened windows and go to Windows 10.
4. On Windows 10 make sure the IP address is configured correctly. Then try to enable network discovery from Network Settings. From Windows 10 Control Panel, Network and Internet, Network and Sharing Center select Advanced sharing settings. Finally, expand the Guest or Public profile and select Turn on network discovery.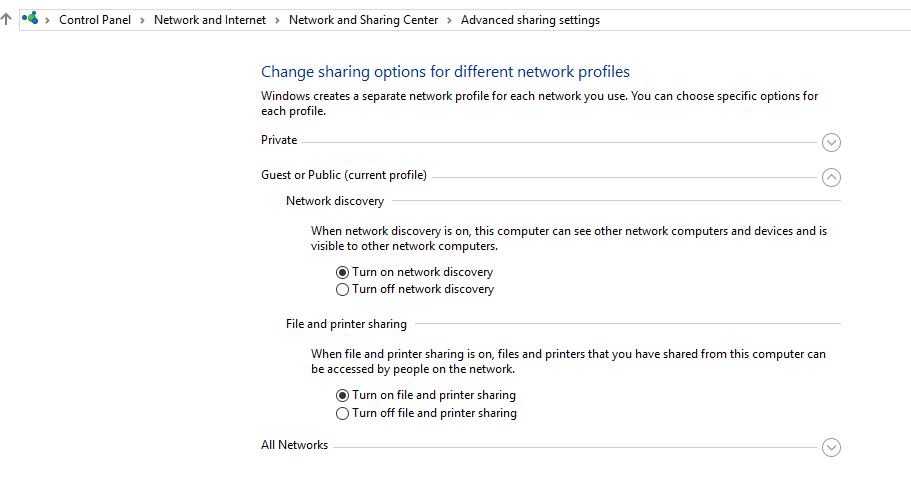 5. Now open the Network place from Windows 10 desktop or Windows File explorer and all machines must be listed like the below screenshot.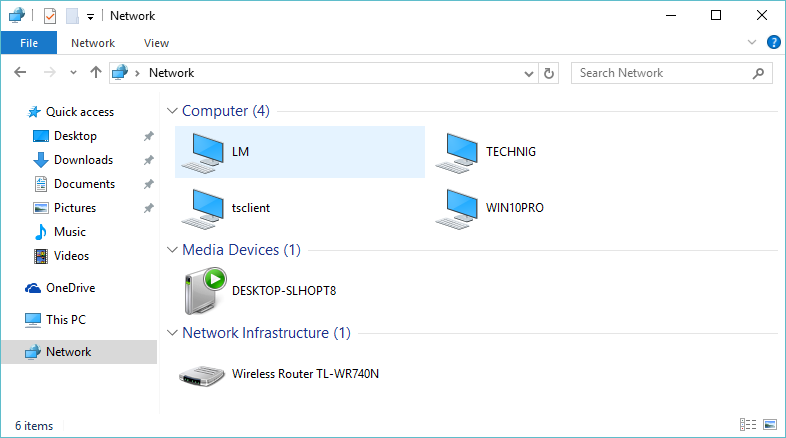 The LM is the Linux Mint machine. Open your Linux machine and see the shared folder. Yes, the file or folder has been shared successfully from Linux Mint to Windows. Let do sharing files via Windows to Linux.
Sharing Files via Windows 10 to Linux
It's for Linux users that are not familiar with the Windows environment. Sharing files are the same but the interfaces are different.
1. Make sure your Windows is ready for sharing files. The network discovery and Public File Sharing must be enabled on Windows 10. These are works the same on others Windows like Windows 8 and 7.
2. To enable these setting, navigate to Windows Control Panel, Network and Sharing Center, Advanced Sharing Settings and expand the All Networks.
3. Let's create a folder and share it for Linux. This folder must be reachable from the Linux Mint network section. To share a folder in Windows, right-click the folder and select Properties. On the Properties windows select Sharing tab. Then select Advanced Sharing to open the Advanced Sharing window. Now tick the check box of Share this folder. Finally, assign full permission form Permissions section and click OK to apply changes and closing the windows.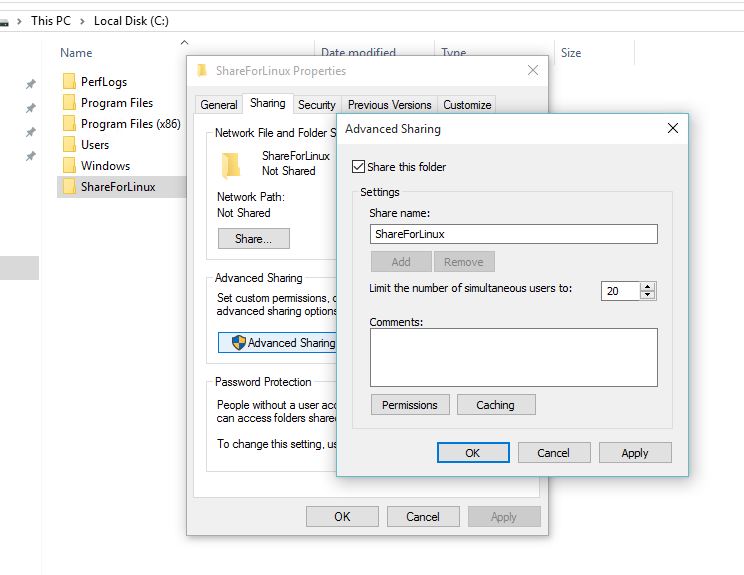 4. Try to assign the NTFS permission from the Security tab of folder properties also. If it's not assigned, the folder will not be open over the network. To do this, add the Everyone group and assign the Modify permission.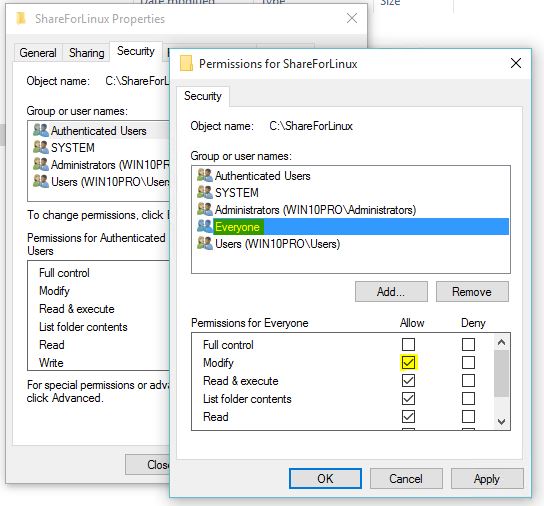 5. Now go to Linux Mint and open the Network to see the Windows Network. Find the Windows machine and open it. You must see the shared folders.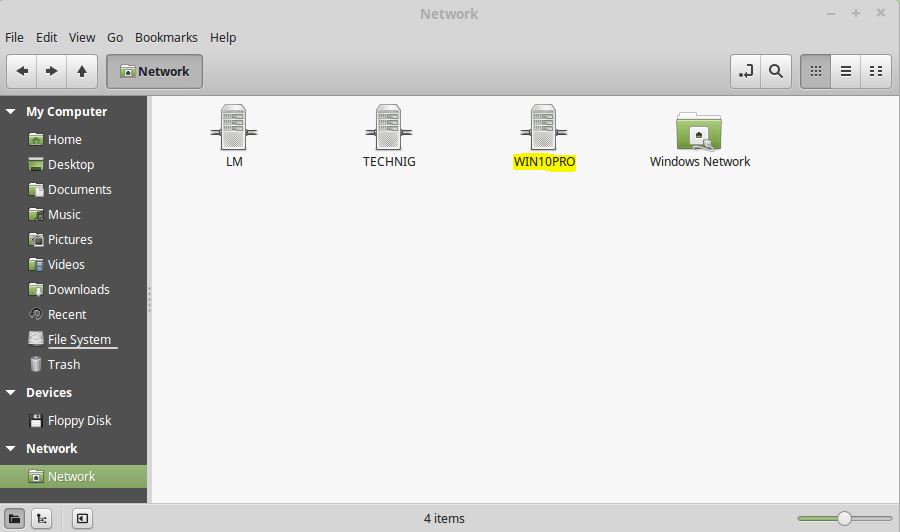 That's all. Hope it can solve the problems to share files via Linux to Windows 10 and Sharing files from Windows to Linux machines.
Final Word
The new chapter for Linux lovers happened. Nowadays social media users are sharing something that "Microsoft Love Linux". It's good to hear that a big company wants to support Linux. But mostly it reminds me of a proverb in Persian that says "The respect of Wolf could not be free". I think Microsoft comes to swallow the Linux philosophy before loving. Hope it will not happen.
So, try to ask your questions related to sharing files via Linux Mint to Windows 10 and not discussing MS & Linux.