How to Network Ubuntu and Windows 10?
Network Ubuntu and Windows 10 at your home and use them side by side. Both can comply with the standard user's needs. I like to work with Linux and Windows at the same time and maybe you are.  The popularity of Windows is more than Linux among home users operating systems. But nowadays the Linux desktops are also get popularized for end users. Especially my favourite Linux Ubuntu Desktop.
In this article, I'm going to simply create and network Ubuntu and Windows 10. However, we wrote about how to share files between Ubuntu and Windows 10. So get ready to create a network using Windows 10 and Ubuntu desktop.
For Linux users, who don't know the Windows 10 installation, read the bellow article, as well as Windows users that have problem with Ubuntu installation on their system.
To dual boot two operating systems, read the install dual boot Linux and Windows article.
Network Ubuntu and Windows 10
Before sharing files and printer between Windows and Ubuntu, you must configure the IP address and permission on Windows and Ubuntu.
Ubuntu Network Configuration
Let's configure Ubuntu IP address and hostname to connect and reachable through Windows 10.
1. Login to your Ubuntu system. On the desktop click the Gear button to open System Settings.
2. On the System Settings page select Network under Hardware.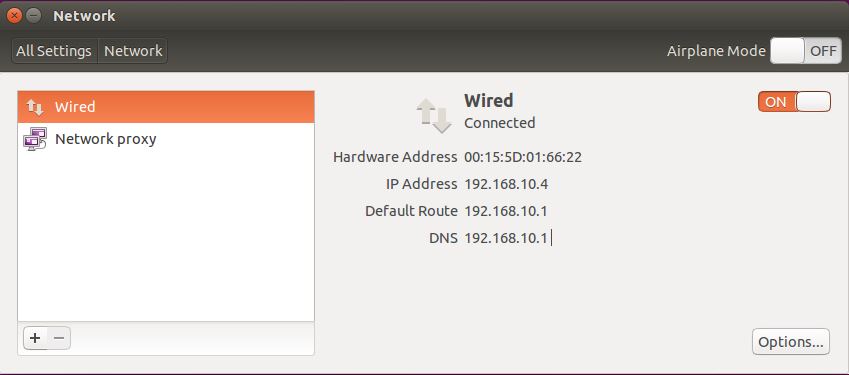 The network card has assigned an IP address by DHCP server from Wireless router. If there is not any DHCP server on the network, click Options to assign an IP address manually.
Note: To assign an IP address manually, click Options on network page to open Editing Wired connection window. Now select IPv4 Settings tab and select Manual under Method then click Add button then type the IP address, Netmask and Gateway and click Save to apply the changes.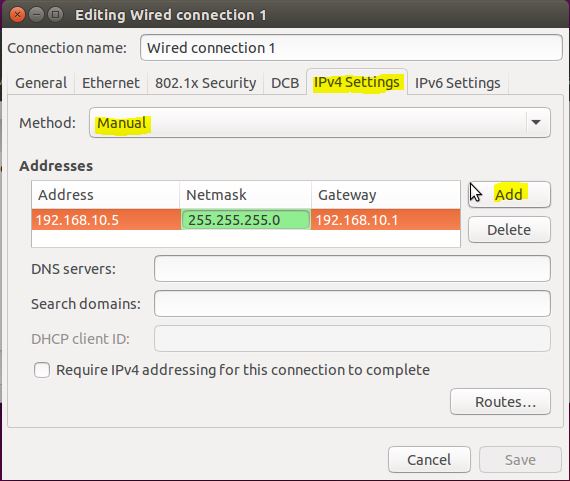 3. Close the pages and run the Terminal to check the IP configuration and hostname. On the Terminal type "hostname" to display system name and type "ifconfig" to display network configuration.
Everything is good. Now try to configure Windows 10 network.
Windows 10 Network Configuration
Do the same settings for Windows 10 also. Set IP address, check hostname and enable network discovery.
1. On Windows 10 press Windows+R to open run. Now type "ncpa.cpl" to open Network Connections. On the network connections right-click the Ethernet and select Properties.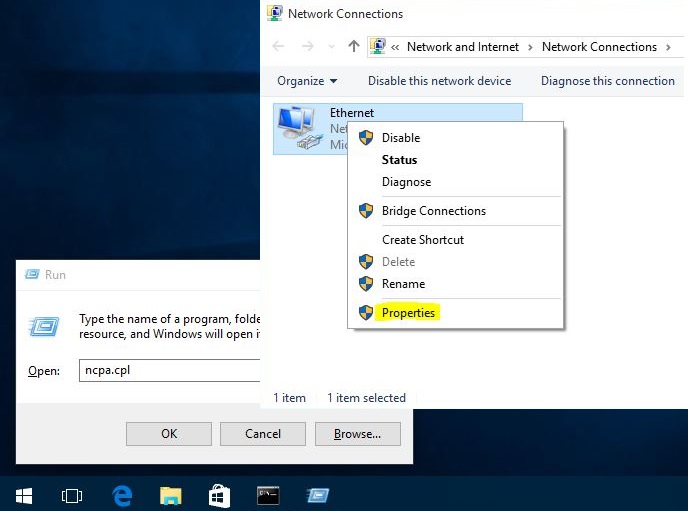 2. On the Ethernet Properties page, set the IP address manually like the below screenshot if you don't have a DHCP server. So the Wireless router assigns an IP address for my systems.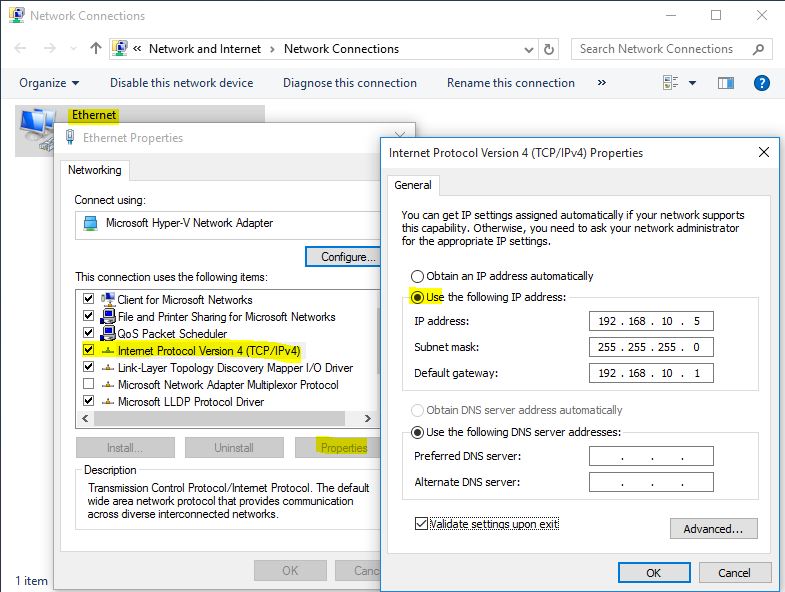 3. Open a command prompt to check the Windows 10 IP address and hostname. On the CMD type "hostname" and "ipconfig" to display the IP address and computer name.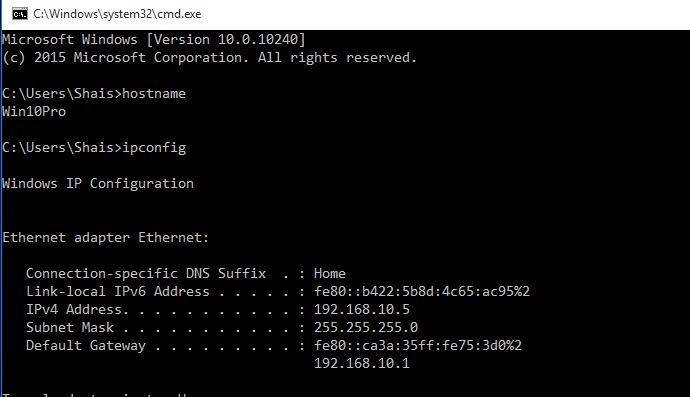 4. Open Network and Sharing Center from Control Panel. Select Change Advanced sharing settings from the left side of the network and sharing centre.
5. On Advanced sharing settings, expand All Networks and turn on public file sharing and disable password protection option then click Save Changes.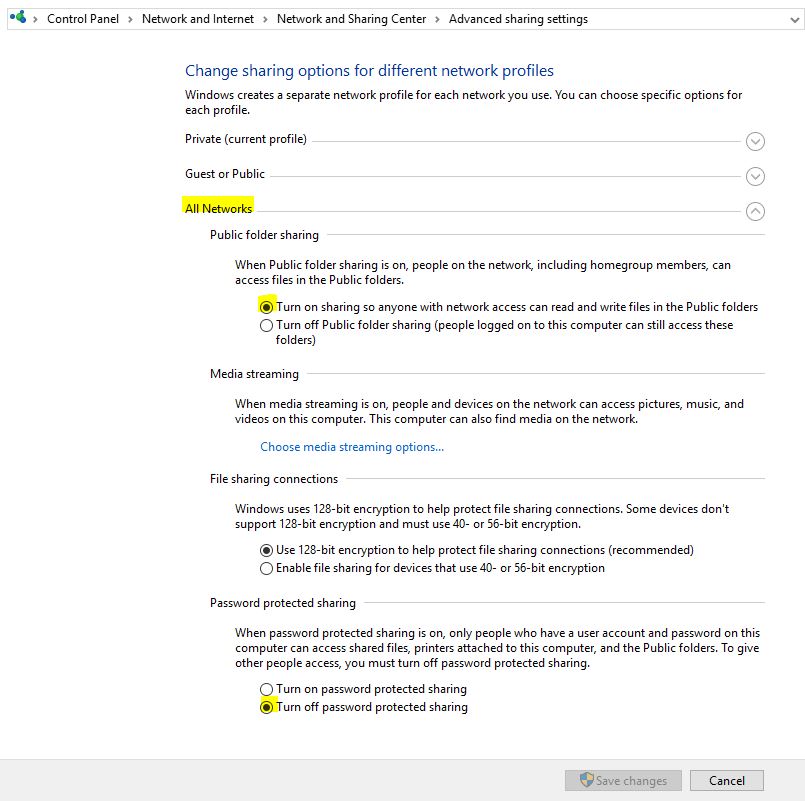 6. Finally, close the window and test the connectivity by pinging to the Ubuntu system.
Yes, then ping reply successfully. Now the Ubuntu and Windows 10 are connected on the same network. You can share files and printer between these two systems.
---
Searches related to:
Ubuntu 18.04 share folder with Windows 10
how to access Linux shared folder from Windows 10
how to access Windows shared folder from Ubuntu terminal
Unable to access location Windows network Ubuntu
Ubuntu 16.04 connect to Windows share
Ubuntu creates a network drive
Mount Windows 10 share on Linux
Ubuntu connect to other computers on the network