Monitoring Windows 10 System and Network Data Usage
Do you want to know how much data your Windows applications and system use in one month? Yes, so this the monitoring network data usage tips in Windows 10. This feature comes with Windows 8 for monitoring network data usage of Windows.
The network bandwidth monitoring has many software and works perfectly. But some good network bandwidth monitoring system need to pay more money. For a system or home network bandwidth monitoring, the Windows 10 builtin feature is pretty good and it shows your system data usage in one month.
Monitoring Network Data Usage in Windows 10
You really need this one to monitor your system network bandwidth. Specially when you are using mobile limited internet connection. With monitoring Windows 10 bandwidth, you can understand what apps are using more network data and what are using less data?
It's completely simple network bandwidth monitoring tips, but very helpful to find out your system data usage. Let's do it.
1. Press Windows 10 button and click Settings to open Windows 10 Settings. Now click Network & Internet.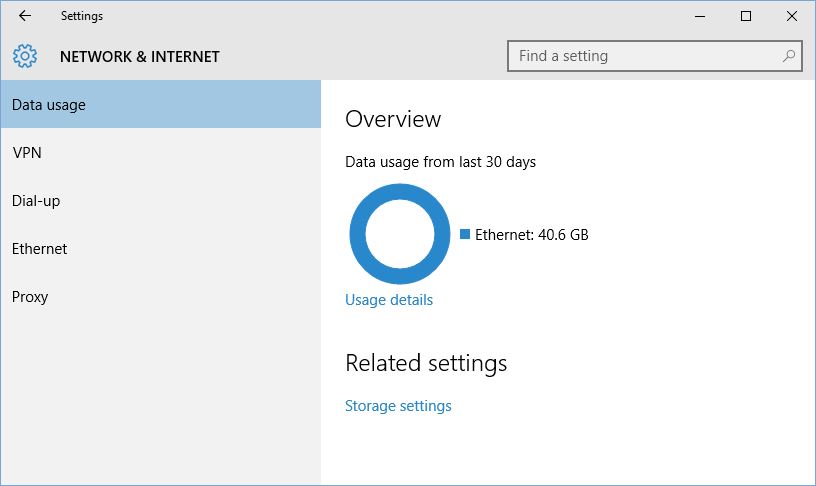 On the Network and Internet settings show more option related to network connections and settings. The first option Data usage shows the overview of your system network data usage from the last 30 days.
2. To find more about exact usages of data by Windows applications, click on Usage details link under the graph of data usage overview.
Yes, these are the apps that spend my network data too much just in one month. Internet download manager, because of my downloading and Google Chrome browser, because of my surfing internet with Google Chrome.
Totally it's one moth reports of network bandwidth usages on Windows 10. You can have a live monitoring feature with Windows task manager.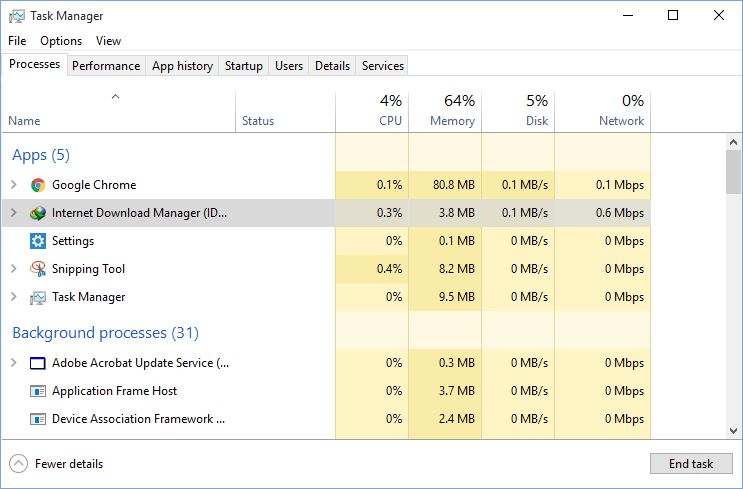 Press Ctrl+Shift+Esc to open Windows Task Manager and click More details then on the Process tab check the usages of CPU, Memory, Disk and finally Network. Currently on my Windows 10 PC, IDM is the first killer of my network bandwidth and the second one is Google Chrome browser.
Does Windows 10 Use More Bandwidth?
May be it use more data if you don't monitor your network bandwidth. First of all try to stop Windows 10 background apps to optimize your system performance then check others.
To know more about Windows 10, please follow the complete Windows 10 tutorials and articles post. That's all Windows 10 tips and tricks for system admins and Windows 10 super users.
Related Search to Windows 10 Network Bandwidth Monitoring:
Windows 10 background network usage.
Windows 10 using all bandwidth.
Windows 10 using up bandwidth.
Windows 10 sharing bandwidth.
Windows 10 limit bandwidth.
Does windows 10 use more bandwidth.
Windows network bandwidth monitor.
Windows 8 data usage. Windows phone data usage.
Windows 10 bandwidth problem. Windows 10 bandwidth issues.
Windows 10 using internet bandwidth. Windows 10 consuming bandwidth.
Windows 10 network bandwidth. Windows 10 bandwidth usage.