Windows Care Genius Best PC Optimizer – Review
The Tenorshare Windows Care Genius is a best PC optimizer. It's a world class all-in-one best PC optimizer tool that offers up to 22 powerful features to keep your PC clean, run fast and trouble-free. All you need to do is one click to clean up your system junk files, clean registry cached records to make your PC work faster.
Best PC Optimizer, Windows Care Genius
A PC optimizer is a collections of auto troubleshoot and optimizing tools which help make your PC clean, secure and work faster. It find and fix most common Windows errors and problems automatically without user engagement with builtin Windows troubleshooting tools.
The Windows Care Genius is one the best PC optimizer that we are going to test and review the pros and cons of all 22 features. The following features are contains with Windows Care Genius PC optimizer.
PC Checkup
System Cleaner
System Tuneup
Privacy Protector
System Monitoring
Backup and Restore
I'm trying to introduce the features and functions one by one. Just follow the review and find out more about the Windows Care Genius PC optimizer for personal computer and enterprise network production environment.
PC Checkup
The Windows Care Genius PC Checkup feature has some powerful sub-features such as privacy risk, security projects, useless files, invalid registry entries, system tuneup and computer traces and browsing history.
From the PC Checkup feature you can easily fix automatically the above features related problems just by one click Checkup and then press Fix to clean, fix and speedup your PC.
The most important features of PC Checkup are Useless files for removing the temporary and junk files, and System Tuneup which improve system performance and boost up Windows speed.
Note: Sometime you don't want to run some features. I really need my browser caches and don't like to remove them. So to prevent from deleting your browser history and caches files, simply expand Computer traces and Browser History and Ignore the sub-features or un-check the Internet Browser History from Common Cleaner under System Cleaner feature.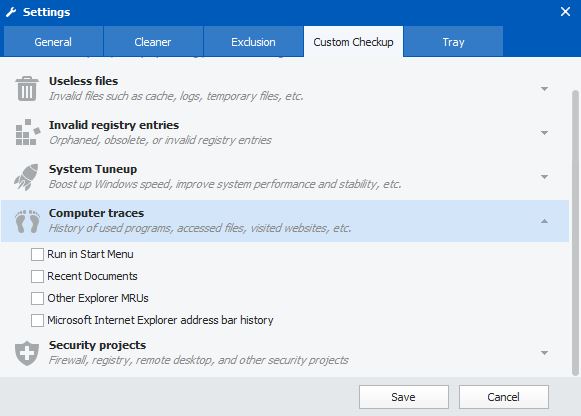 Here you can bring back the ignored features and even exclude some folder and files from Exclusion tab under Windows Care Genius Settings.
To make your work easier, turn on the schedule task for auto checkup the system and fix the issues and deleting junk files or using the Tray icon on the desktop.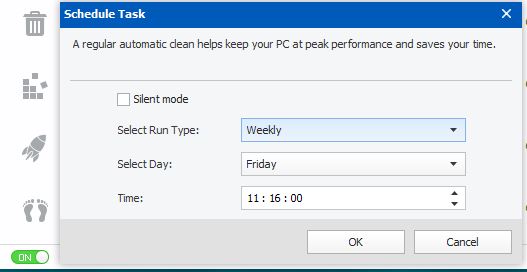 System Cleaner
The System Cleaner feature of Windows Care Genius has tools that help you clear clean registry problems, command Windows cached and log files and hard disk junk files.
Windows registry is the brain of your Operating System. If Windows registry encounter problems, the Windows will not work properly. The system registry always should be clean and fixed of any errors.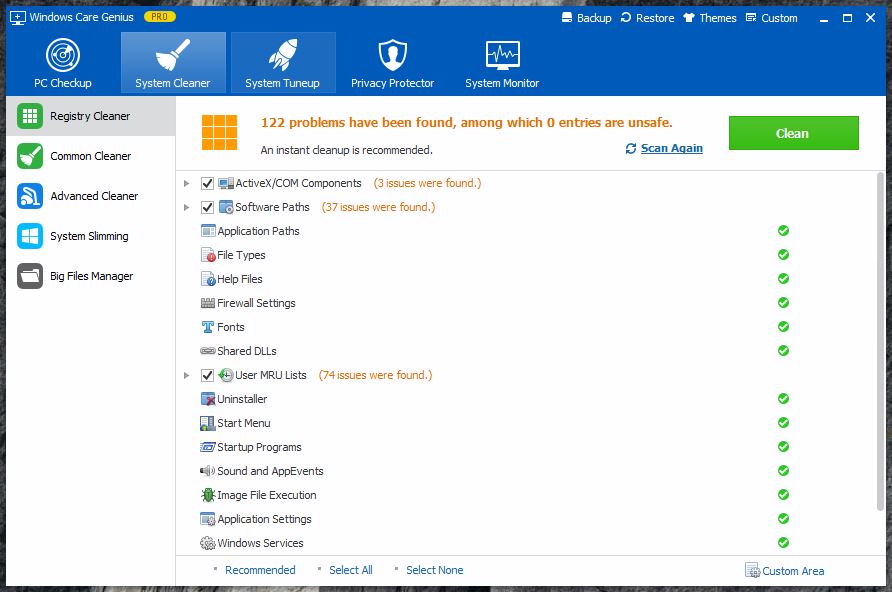 The Registry Cleaner designed to help you keep your system registry clean automatically just by one click. When the Windows Care Genius scan your system registry to find errors, you can check what parts of your system registry has more problems.
That's all for registry scanner. The next powerful feature is Common Scanner which scan to find most common junk files, log files, cached updates, and Windows 10 Apps cached files. It can find and remove the common cached files from your system and make the hard disk space free of useless files.
The common cleaner is pretty perfect for cleaning Windows junks and useless files. But you find another great option to find and delete OS drive and fixed drives cached files which always occupy the hard disk spaces.
It's Advanced Cleaner. Both Common Cleaner and Advanced Cleaner are great tools, but I miss something related to this part. That is the option that delete the Windows.old files from system drive.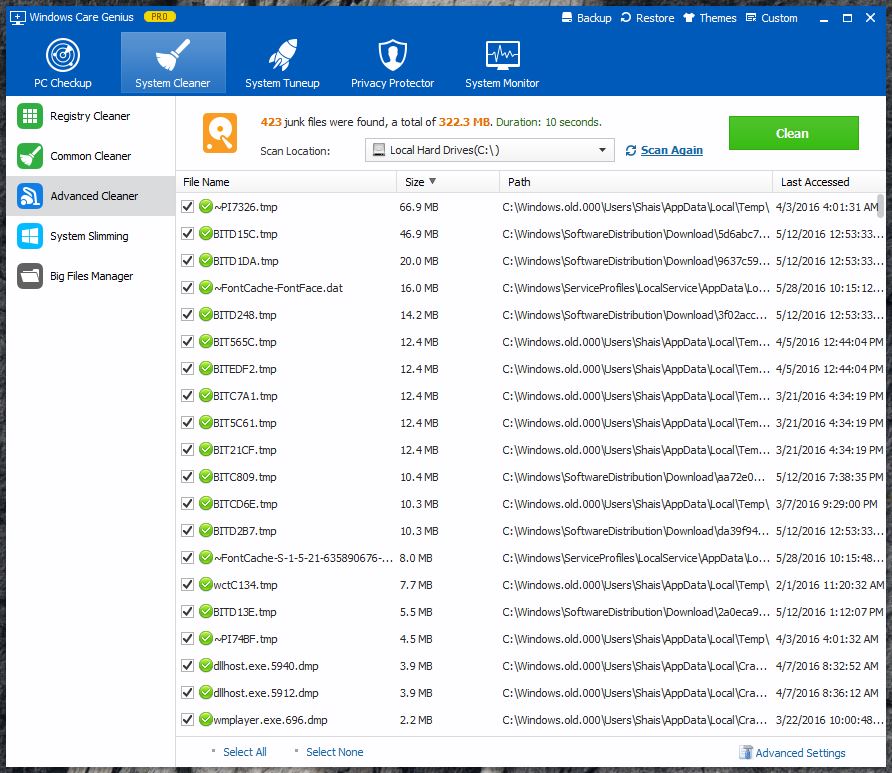 The Windows.old folder is the created when you upgrade your system without deleting of formatting the operating system drive. It keeps the old user profiles data and files.
Note for developer of Windows Care Genius: I really find this option helpful on network environment when system admins doing mass Windows upgrade of 100+ PC at once. But it's not present in this section. Hope I see on the next version. 
System Slimming and Big Files Manager are help you delete the Windows downloaded installation files, Windows installer baseline cache, Windows help files and wallpaper files.
File the big files with Big Files Manager. It scan and find all big files that you are not able to find them easy. If you attempt to delete unnecessary big files, select them and click Delete to permanently delete them.
System Tuneup
The System Tuneup feature automatically optimize your system performance. Here it can optimize the performances of startup, system stability, system speedup and network speedup.
To optimize the hard disk, once do a disk de-fragmentation from Disk Defrag section. Disk defragmentation is the process of consolidating fragmented data on a volume (such as a hard disk or a storage device) so it will work more efficiently. It boost the hard disk speed and re-arrange the hard disk data correctly. This action will perform for Windows registry as well. Do a registry defragment from Registry Defrag section.
Windows registry is very important and because of this mostly I recommend you do not edit the registry of your Windows when you don't know about registry. Let the Windows Care Genius to the default setting for optimizing Windows registry.
You can make a full backup of Windows registry with Backup option of Windows Care Genius. Restore the registry backups from Restore. Restoring registry backups need to restart your system in order to apply changes.
Startup Manager feature, let you enable or disable the application that are automatically running when your system turn on. If you have more apps on the startup section, it means the Windows is starting slowly. So disable the unnecessary apps to speedup the Windows starting.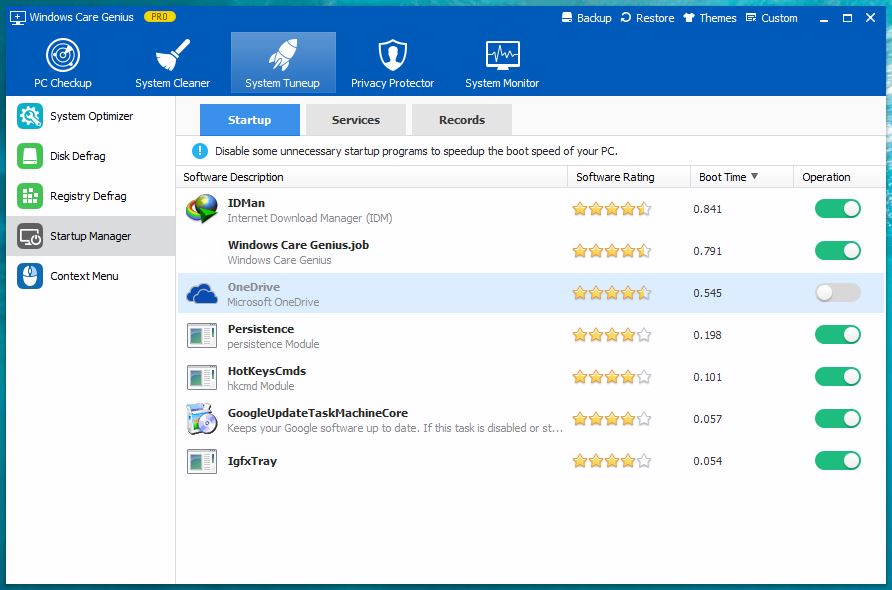 Context Menu is the lists under the mouse right click. Some application add it's shortcut keys under the right click of mouse. The Context Menu let you remove the shortcuts from mouse menu.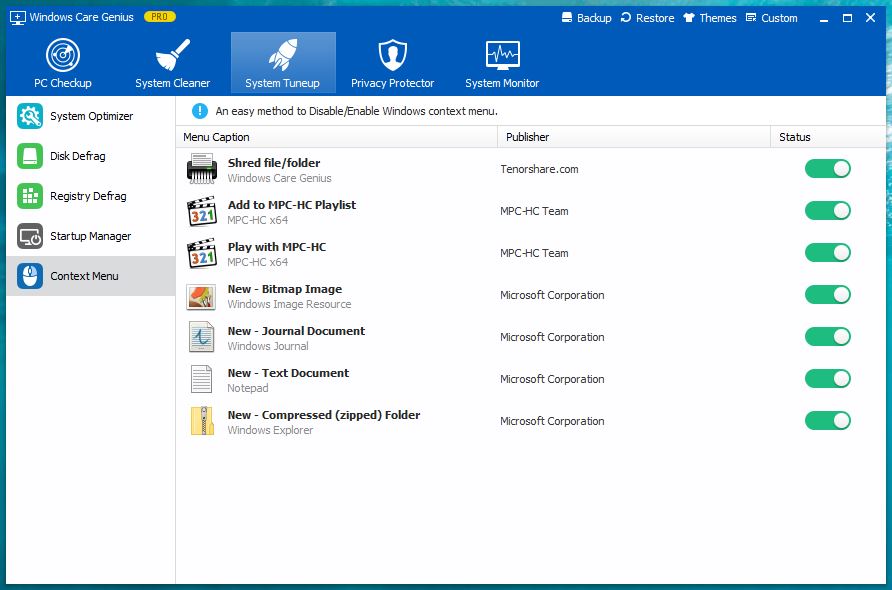 Navigate and find more other useful options. I can't brings all to this review post. It really make the article longer.
Privacy Protector
Privacy Protection section is focus on cleaning the history of viewed pictures, watched videos, and navigated local and web address. Simply scan and clean these histories from Privacy Eraser section.
The important option in this section is Disk Eraser. It delete the files and data or hard disks that no data recovery software can recover it. It delete the files and make the hard disk unrecoverable by others.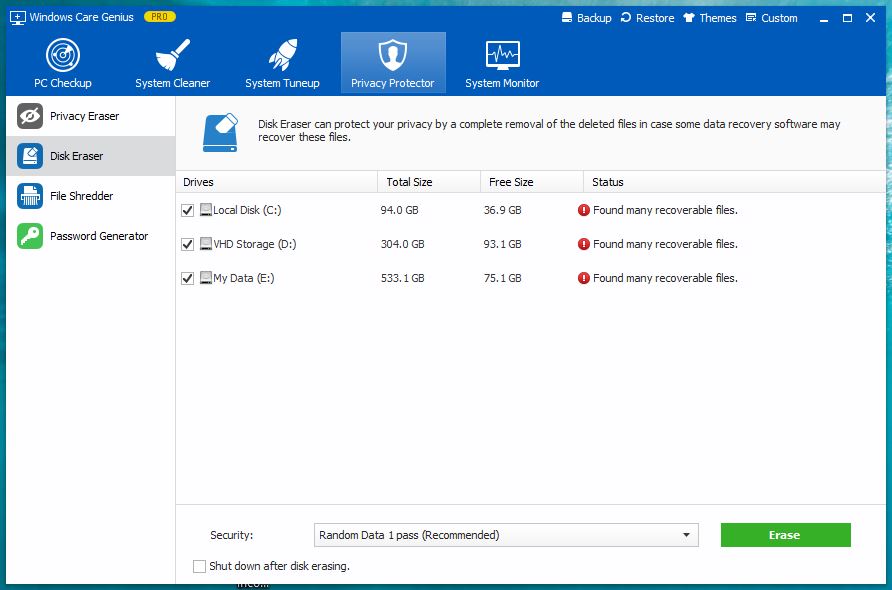 It mostly used for removable devices and hard disks you want to sale. Just erase the files and data securely with Disk Eraser.
File Shredder will be removed and make unrecoverable a file from the hard disk. It prevent the shredded files from being restored even with with most powerful data recovery software.
Password Generator is a tool that generate a strong and complex password. If you need a password generator tool near your hand, it's the best option.
System Monitor
Like the Windows task manager, the System Monitor has some great features for monitoring the performance of system. Monitor and find out the running applications, hard disk overview, processor data and status, memory, graphic card, hard drives, network adapter status and sound system.
The Process Monitor shows the active process that you can check and terminate the one you don't need. But it's not able to terminate some important active process such as files explorer while the Windows task manager can do it easily.
Conclusion
These were the most important features of best PC optimizer Windows Care Genius by Tenorshare. I'me sure a best PC optimizer need a good support. The Tenorshare has a complete Windows Care Genius guide and step by step articles on their website. Also from Help Online link under Custom tab you find a complete pictorial guide.
We recommend Windows Care Genius for personal computer and enterprise network devices. It's one of the best PC optimizer that make your personal and network computers secure and work faster.
The Tenorshare team has many other world class products for Windows and Mac OS devices. Find the other Tenorshare products from it's official website.