Samsung vs Apple Rules in World Mobile Market
The Apple and Samsung both are now the best manufacture mobile phones. This two well-made smartphone oppose each other from several years and till now but can't decide which one is better, today I am going to show and discuss the disputes between Samsung vs Apple clearly in the past and present.
Samsung vs Apple in the Past
Samsung vs Apple was the first series of ongoing lawsuit case between the two companies regarding the smartphones and tablets. The first litigation of the Apple was on 2011 started and was going on while Apple was also having litigation with Motorola Mobility. The discussion Apple vs Samsung was going on and more spirited until the litigation was started at 19 cases in 9 countries and by October it expanded into 10 countries. By July 2012, the two companies were involved in 50 lawsuits around the world and these cases destroyed billions of dollars. While Apple won a ruling in the US, Samsung won a ruling in South Korea, Japan, and the UK. On June 2013, Samsung won a ban from the US Internation Trade commission on the sales of certain Apple products.
The basic one ongoing case was on the iPhone 3GS and i9000 Galaxy S shape and apps of them. While Apple's evidence screenshots and shape later mislead and deceive the court. This was all about the past of ongoing opposition between them.
Samsung vs Apple Comparison
According to sales in 2015, Apple had somehow more sales but Samsung showed that it can go toe to toe with Apple and even better without fear. So it can be imagined in 2016 that the Apple is going towards the high level of users but no one can say the exact thing about Samsung that what's going to be done with Samsung, because it's one of the oldest and creative made Android for the first time and ruling the world.
For more info:  Samsung.Inc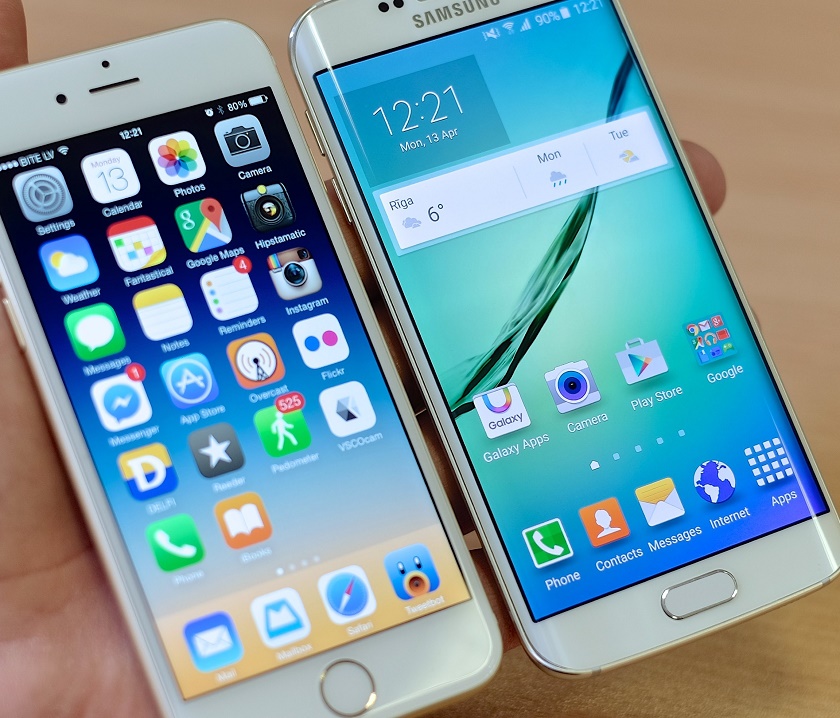 The Samsung Galaxy S6 which is one of the most popular and sale around the world can compare itself to iPhone 6 with the high-quality images, powerful processor and premium design but it's difficult to decide which one is more beautiful and powerful like; if we compare Galaxy S6 with iPhone 6 in images then in some situation Samsung is better and in some situation iPhone can be better like Samsung is taking with more detail but with few issues of overexpose and the opposite with the Apple its dull with some shots but takes selfie better than it.
The thing which makes a lot of users happy about iOS is its security and speed but for some users, it can depress them from using it, and the same with Samsung, some users like the open way of Samsung like direct downloading and other and some users might not like.
Finally, in 2015 Apple had improved and had more sales comparing with Samsung but it is not confirmed that it can rule in 2016 or Apple can rule.