Say Hello to Google Adsense New Features!
Google unveil the Google Adsense new features that made old features easy to use. If you are new with Google AdSense. It is an online service run by Google that allows publishers in the Google network of content sites to serve automatic text, image, video, or interactive media advertisements, that are targeted to site content and audience. These advertisements are administered, sorted, and maintained by Google.
Related: Google AdSense from Apply to Approve Guides in few Steps
They can generate revenue on either a per-click or per-impression basis. Google beta-tested a cost-per-action service, but discontinued it in October 2008 in favor of a DoubleClick offering (also owned by Google).[2] In Q1 2014, Google earned US $3.4 billion ($13.6 billion annualized), or 22% of total revenue, through Google AdSense. AdSense is a participant in the AdChoices program, so AdSense ads typically include the triangle-shaped AdChoices icon. This program also operates on HTTP cookies. Read more about Google Adsense on Wikipedia.
Google Adsense New Features
This is just a Google Adsense inside out review. There is not new option but design and new graph for viewing reports better and easy. The new Google Adsense home page is designed very clear with good view, but it is still not mobile optimized and not responsive. If you want to use with mobile, you should install the Google Adsense mobile app from Google Play Store.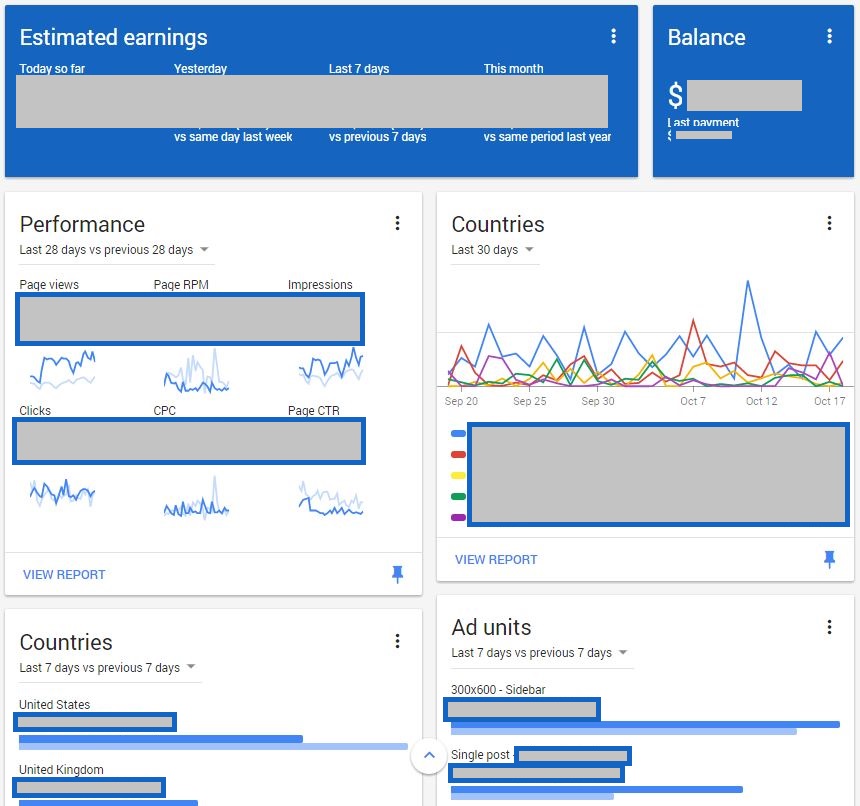 The home page is become quite beautiful. You can easily drag and drop each report window and rearrange by your own style.
What's changed?
The new Google Adsense interface is designed to help you get more out AdSense. Google added new features and made the existing features easier to use.
Comprehensive performance reports: View your daily stats in graph format, and gain insight into your performance with new metrics detailing the amount you're earning from different ad types, ad sizes, targeting types, and more. Learn more
Quicker account maintenance: We've streamlined the process for a number of common tasks to help you get things done more quickly. Whether you're updating your contact information or editing a number of ad units at the same time, you'll find that these types of tasks require fewer clicks and less account navigation than before.
Prominent help links: There's now help content available on every page, so you'll be able to quickly find answers to your questions while navigating through your account.
Easier access to online resources: Visit the redesigned Resources page, where you can find the latest content from the Inside AdSense blog, our YouTube channel, and our Twitter account, all within your own account.
Renamed features: We've updated the names of several features in your account, in an effort to more clearly explain their purpose. While we hope the new names are more intuitive, if you're unclear what they do, refer to the help links on the page or in the sidebar.
Read more about the new interface on Google website or visit the official blog post about Google Adsense new features that are now available in the new AdSense interface.