When you configure your Wifi router for your home or office, you set a password. You might be lost or have forgotten the Wifi Password. Here we help you find If you lost or cannot remember your network security key to connect another device to a particular Wi-Fi access point, you can find Windows 10 WiFi password easily.
Find Windows 10 WiFi Password
If you have a computer other than your Surface that is running Windows and that is connected to your wireless network, you can find the password by doing the following:
A quick way to find Windows 10 Wifi Password:
On the Windows search box, type "network and sharing."
Click Network and Sharing Centre in the search box to open it.
Now click the Wi-Fi connection.
On the General tab of Wi-Fi Status, click Wireless Properties.
Select the Security tab of Wi-Fi network properties.
Tick the checkbox of Show characters to show you the saved WiFi password of Windows 10.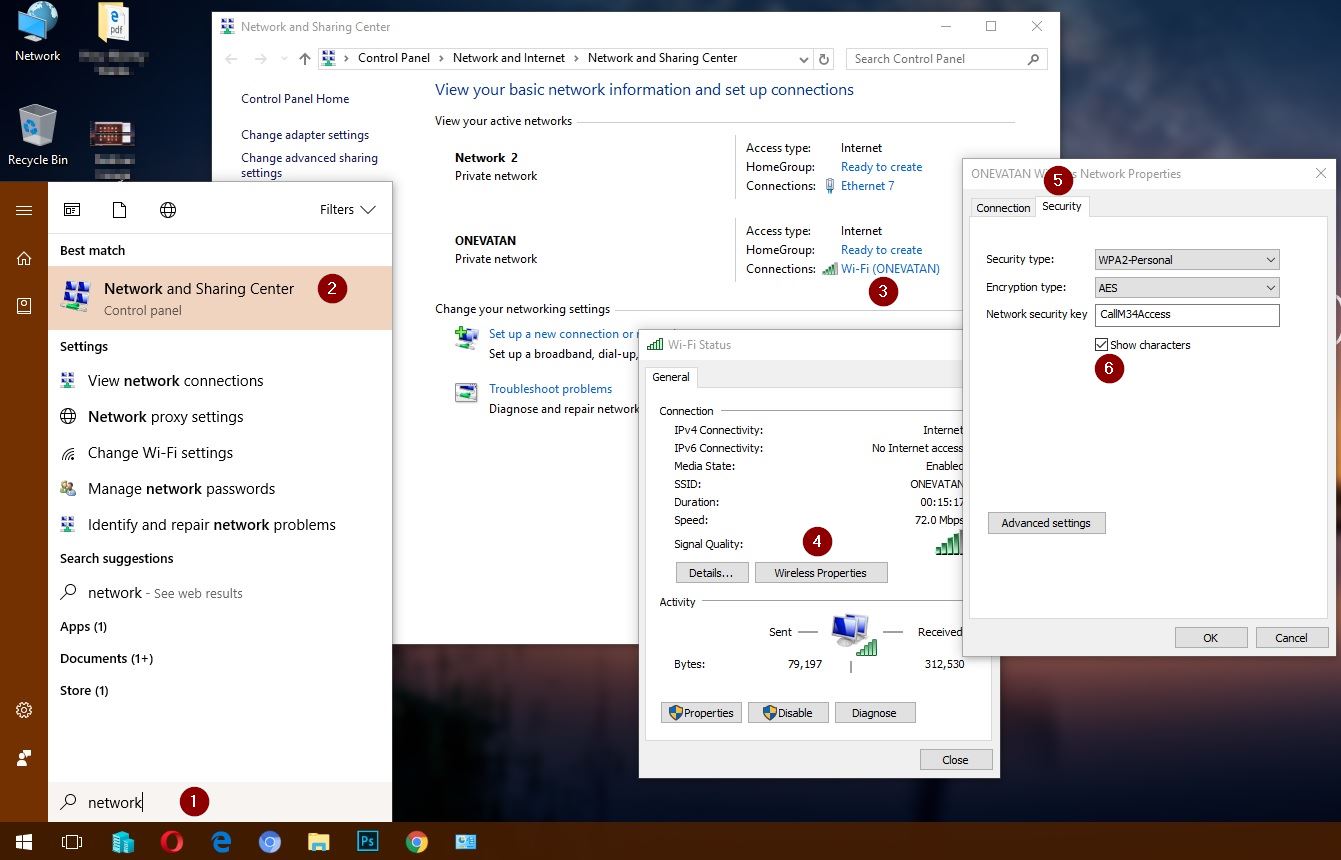 It's the short and quickest way to find Windows 10/11 passwords on a PC and laptop. You can find a third-party software that shows you the saved password of WiFi on Windows 10. The best and most secure option is using this method. Another way is using a command line such as Windows PowerShell or the command prompt.
In command prompt and PowerShell, the netsh utility helps you manage and configure WiFi network connection in Windows operating system. Let's find Windows 10 password with the command line.
Related: How to forget Windows 10 Wi-Fi network profile?
Find Windows 10 WiFi Password with Command
Finding a saved Wi-Fi password with the command line just needs to execute the below command on PowerShell or Command Prompt. You must run the Command Prompt or PowerShell as administrator privilege.
Run PowerShell.
Type "netsh WLAN show profiles" to see the WiFi network profiles.
Now type the below command to find the saved WiFi password.
netsh WLAN show profiles name="ONEVATAN" key=clear
That's good. You can find the WiFi password under the Security settings. 
Good Luck, and for more, visit Windows 10 WiFi settings on the Microsoft website.
---
Related Search:
Find wifi password | Windows 7
How to find wifi password Windows 10
How to find ethernet password on Windows 10
Windows 10 saved WiFi Networks
Find wifi password Windows 10 without admin
WiFi password revealer Windows 10
View saved wifi passwords android