Windows Operating System is weak against Local Password Cracking tricks. It is not only Windows, the other OS like Linux, Mac OS are also the same. But you can enable Syskey to protect Windows against local password cracking. By default, Windows doesn't protect the system from bringing any changes to the SAM database. In order to protect Windows from local password cracking, Microsoft had set the Syskey within Windows NT 4.0 SP3. The Syskey utility can encrypt the hashed password information in a SAM database in the Windows operating system using a 128-bit RC4 encryption key.
Enable Syskey To Protect Windows
When you enable Syskey on Windows, the system asks you the Syskey password before displaying Windows log on-page. It seems like modern multi-factor authentication which Microsoft brought you a decade ago!
Syskey has the same configuration on all Windows. In order to enable syskey to protect windows, type "syskey" on Windows run and press enter. It will open syskey page and you must configure it.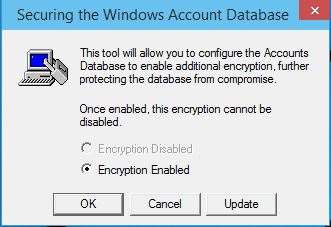 On the Syskey (Securing the Windows Account Database) page click Update button. Before enabling Syskey, read the details and information on the pages.
Now on the Startup key select Password Startup and enter the password for syskey. The password must be strong enough to do not guess and crack easily. When done, just click OK.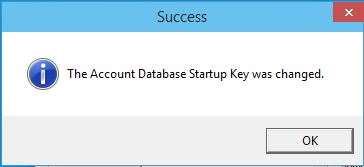 When prompt that The account database Startup key was changed. Click OK and the syskey page will close. Don, the syskey enabled successfully.
After enabling Syskey on your Windows, it will ask you the password key when Windows has started up. This happens before displaying log on page of Windows. So till here, you protect the log on a page from bypassing Windows login page tricks which we talked about on the "Reset forgotten Windows Password" post.
To test the syskey, once restart your computer and see the start-up password prompt at startup.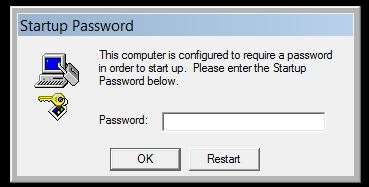 Just enter the password of syskey that you enabled before. Try to remember the password or write somewhere else. If you forgot the password you are not able to login to your System. It's possible to bypass syskey password, but is time-consuming and need some third-party tools to reset the password.
Any question? And feel free to ask us. We try to help you protect your system or suggest us a new tip for protecting Windows SAM Database.