So far every one of you knows the android auto-correct and spell checker. The Android default or the preferred keyboard on your android system setting has the autocorrect enabled. It has also built the spell checker. Perhaps you want to get rid of autocorrect it's kind annoying all the time. So if you dislike it or don't want to use it anymore we are going to disable Android Oreo spell checker and autocorrect option.
What is The Different between Autocorrect and Spell Checker?
While you're typing on Android device, your spelling is checked automatically and replaced with the words that are suggested. If you don't select a word from suggestions lists. So the system thinks the word is misspelled and replace it with the default word.
So, however, most the times the word is not misspelled. Absolutely at this time it's going be so annoying for you. It's very simple to autocorrect will automatically correct the words and we will show to get rid of it.
Spell check simply just provide a list of suggested words. So it won't automatically change anything. We will also show you to enable this setting.
Disable Android Oreo Spell Checker
Open Settings scroll down and click General Management
Click Language and Input than open Virtual Keyboard
Click Samsung Keyboard and turn off Predictive text (autocorrect)
Note: This setting may be in a slightly different place or under. So the above method is running Android Nougat.
So now we are going to show how to turn off autocorrect and turn on spell check step by step.
Turn android autocorrect Off
1. To pull the notification bar down and click the gear icon to open setting.

2. Now scroll down and open "General Management" then click "Language and Input" and select Virtual Keyboard.
3. So after you find the location now click the "Samsung Keyboard" and you see the "Predictive text (autocorrect)" turn it off.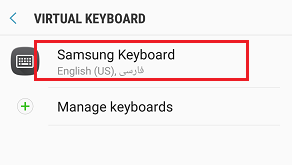 4. Now you can also turn on the spell check (Auto check spelling) in here. Simply click the button to enable it.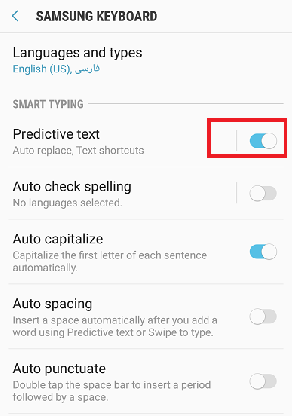 5. Now to enable the spell check (spell correction) turn the auto check spelling on to use the setting. So you should know the Spell check or Auto-check spelling is not autocorrecting your words but instead, it shows suggested words lists.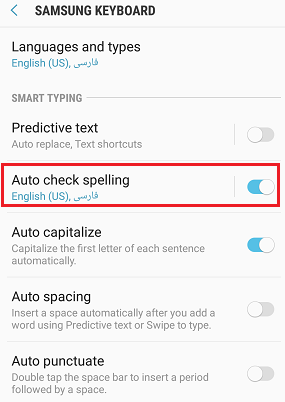 Remember that this setting exists in the different place on other devices and in the android Oreo there is not much different.
Conclusion
So now that you have disabled the autocorrect and indeed you have enabled the spell check or the spell correction. Hope the disable Android Oreo spell checker article was informative and helpful for you. If you have any questions feel free to ask through comment. Also, read Top 10 Best Forex Trading Apps for iOS and Android.