You might be looking some easy and fast way to transfer files from iPhone to PC without iTunes. Transferring data is a common thing we do every moment. We need our devices to be connected with each other too and exchange different types of data such as Texts, Photos, Videos, Music or any other type of information. Sometimes it is easy; as we use wires (cables) or we try to transfer the data wirelessly between our devices such as transferring between a system with Android operating system and a personal computer or PC. But transferring data between an iPhone and a personal computer is much difficult.
iTunes Restrictions:
Apple has restricted this transfers and is limited to special software to transfer between iPhones and PCs; the iTunes – with many limitations such as:
Apple ID
Synchronizing Problem
Application Crushing
Playing problems of non-iTunes music
Here a question arises,
Transfer files from iPhone to a PC without iTunes?
WinX MediaTrans is the best iTunes alternative for windows with many better characteristics than the iTunes and makes files transfer very easy between a PC and an iDevice. New capabilities such as Protecting files with passwords (encrypting files such as photos, music and movies), Put non-iTunes Music on your phone and auto-compress and conversion.
Characteristics of WinX MediaTrans:
WinX MediaTrans brings and supports the list below to transfer files from iPhone to PC without iTunes.
One-click Install
User-friendly interface
Quick-Connect with your iPhone10
Easy-to-use
Easier synchronization
Enables two-way file transfer
No Apple ID needed
Manage your files such as music, movies, photos and books securely
Specifically, WinX MediaTrans supports more great options described below:
File Encryption:
Encrypt File option can encrypt your files on your hard with unbreakable encryptions or it allows you to password-protect your files from iPhone on your hard.
Put non-iTunes Music on your phone:
iTunes sometimes makes crazy as not playing non-iTunes Music after synchronizing while WinX MediaTrans can make it work perfect and play all songs and music.
 Auto Conversion and Auto Compression:
WinX doesn't have any format restrictions like iTunes because it supports conversion function and your all types of formats can fit for your phone, automatically.
Unchain iTunes Purchases and Downloads:
Allows you to play your iTunes movie, music or TV shows on any other devices or media players wherever you are and whenever you want freely.
Now, I'm moving towards stepson,
How to transfer files from iPhone to PC without iTunes?
Here is a complete guide on how to transfer videos from your iPhone to your PC and vice-versa. Other formats work the same as transferring music.
Step 1: Installation
Free Download the WinX MediaTrans from the official site and install it.
Step 2: Launch and Connect
Launch the installed WinX MediaTrans Application and Connect your device with your PC.
After you clicked launch, you are ready and can connect your phone with your PC to transfer files between your phone and your PC.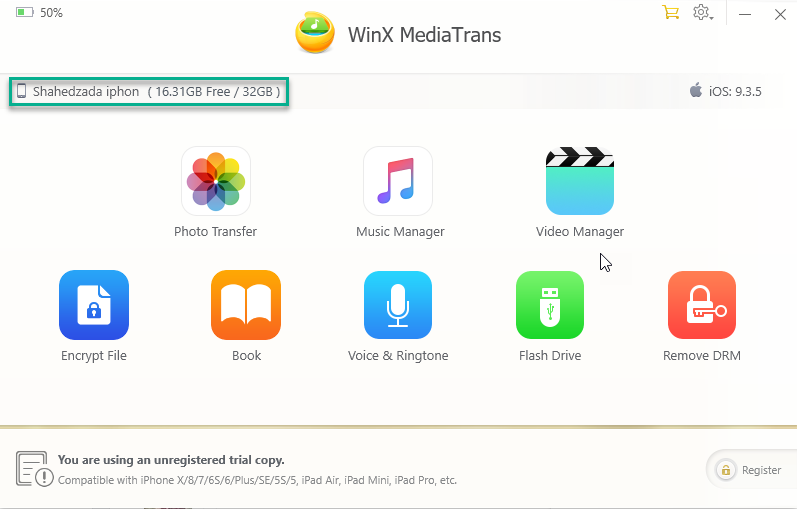 Step 3: Select one of the file managers
After launching and connecting your iDevice you can see 8 file managers on the screen to manage your data on your iDevice.
Here, I am supposed to select Video Manager to view, export, delete, or import videos to my phone or PC.
Step 4: Exporting Videos:
WinX MediaTrans provides a very simple and easy way to transfer videos or other files between your PC and iPhone. For exporting videos from your iPhone to your PC, follow the following steps:
Manually select videos you want to export or you can use Select All option to select all videos at once.
Click the "Export" button above the videos to export.
After exporting videos, exported videos will be placed in the C:\Users\Your Account\Videos\MediaTrans
Step 5: Importing videos to your iPhone:
Importing and Exporting videos or other files with WinX MediaTrans is much like copy-paste experience. For importing or adding new items to your phone, use the following steps:
Click "Add Video" button from the Video Manager Menu Bar
After the Window-Dialogue Box opens, select the video you want to import
After video appears along with other videos with a new keyword on it, Click "Sync" button on the bottom-right corner of the Video Manager Screen
Step 6: Deleting a Video from your iPhone with WinX MediaTrans Video manager:
As the Export and Import processes were so easy, the deletion is also very simple. You only need to Select and Sync with below steps;
Select videos you wish to remove from your iPhone.
Press "Sync" to complete the deletion process
After Clicking "Sync" your selected videos will be deleted.
Check the video instruction to make sure you do transferring files to iPhones without any issues.
Done! We learnt how to transfer videos from iPhone to PC without iTunes and from your PC to iPhone. And the steps are similar if you want to transfer photos, music, ebooks, ringtones, etc from iPhone to PC or PC to iPhone.