How to Recover and Prevent Data Loss using Data Recovery Software?
The primary fear with every computer or smartphone user is the fear of losing data, which is priceless and no one would wish to lose it. Data occurs in various forms, such as photos or videos recorded using a smartphone, to remind you the beautiful memories. Also, the data can be in the form of documents with very invaluable information. To prevent data loss, follow this recover data loss using recovery software article.
Recovery and Prevent Data Loss
Data loss might occur due to various reasons. For example, you might lose your data because your device is infected by the virus, through crushing of your device system, accidental formatting without backing up, if the device fails to boot, or through losing/theft of the device.  However, you can avoid data loss by:
Keeping a backup of any useful data, either on external storage devices or the cloud always. For free storage of large files, some data recovery software such as Google Drive, One Drive, and others are suitable for use.   Besides, if you have photos and videos to store Google photo recovery software and EaseUS file recovery software are the best to use, because they have unlimited storage space.
Avoiding the installation of untrusted data recovery software in your devices, as they may crash your system or cause boot failure. EaseUS file recovery software is reliable and efficient to use.
Ensure your devices are locked using either security key or a password.
To avoid an attack by malware viruses, always use original virus software. Avert the use of cracked applications, since some contain malware, which might cause severe data loss.
Ensure your devices have the latest operating systems since they have fixes and patches for any vulnerability.
Data Loss Recovery Using Recovery Software
You can easily recover lost data, by either using backup disk, or file recovery software.  It is much easier to prevent data loss or recover lost data if you have a backup on external devices such a hard drive, or on the cloud.
If you are using an iPhone, you can make a backup using iTunes recovery software, either on Mac OS or Windows. If you happen to lose the data but you already have a backup, to recover the data, just connect your iPhone to your computer and follow all instructions indicated on the iTunes app.
Nevertheless, many users do not back up their data; hence the only solution to recover lost data is by the use of recovery software.  Besides, most file recovery software's are not genuine and not free, though with a trial period.
EaseUS recovery software is the best to recover lost data.  You can recover 2GB of lost data with the free version, but much more with the full version.  EaseUS file recovery software is user-friendly, reliable and capable of recovering data lost through various forms.
1. Let's test it with EaseUS Data Recovery. Download and install the EaseUS Data Recovery software on you Windows and run it.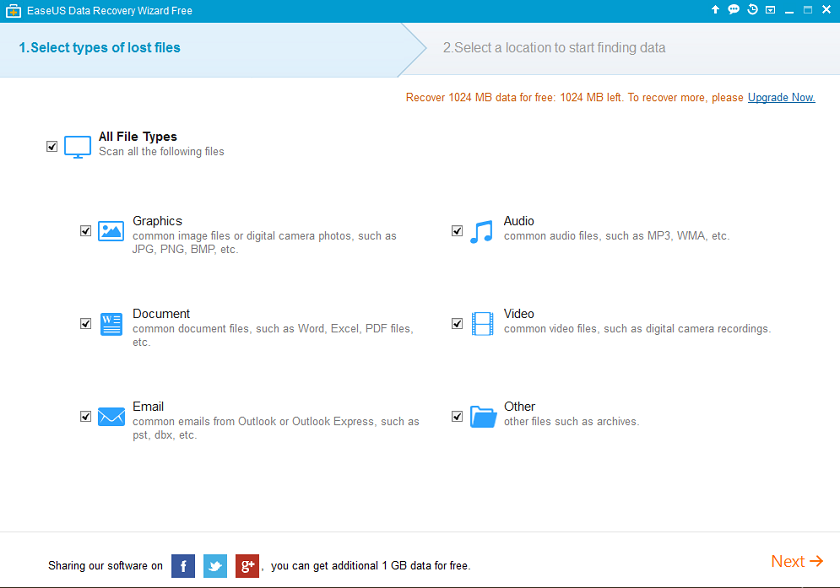 2. Select types of lost files such as graphics, audio, video, email, documents or other files and click Next. For good result, it's better to specify what data type's you need to recover.
3. Select the drive you want to recover it's removed data and click Scan button to scan the lost files. When the scan finalized, it list all recoverable deleted files.
Note: Don't worry if the simple scan could not find the exact files. Just once scan with Deep Scan. It can recover the old files as well. But it takes the time to deeply scan every layer of your disk.
5. Finally select the files from the list and recover them to another drive or external hard disk. Make sure you select your required files and recovered successfully.
That's all you need to prevent data loss or simply recover your lost data with data recovery software.
Besides the file recovery software works well with all storage devices, and recovers all lost data without overwriting on them.   Apart from having the ability to recover hidden in partitions, the recovery software restores all forms of files. The file recovery software has a process, where you only launch, scan the records and have a preview of all files to select what you want to recover, then pressing the Recover button to have all lost data.
This is a contribution post.