Though you all may know about the Table of Contents, let me talk clearly about this. Table of Contents or TOC is a table in which we manage and sort Titles of the Topics in a document, magazine, book or article by the page number on Microsoft word.
The most necessary thing about the Table of Contents that all must know is that TOC can't be created without any heading or level applied to the titles of the topics. MS word has 1-9 headings and 1-9 levels. Almost levels and heading are equal by formation.
Let's start creating a TOC with heading and levels.
Step One:
Type some texts having titles.
Select their titles and apply heading from 1 to 9 or apply levels.
Concentrate on the picture below: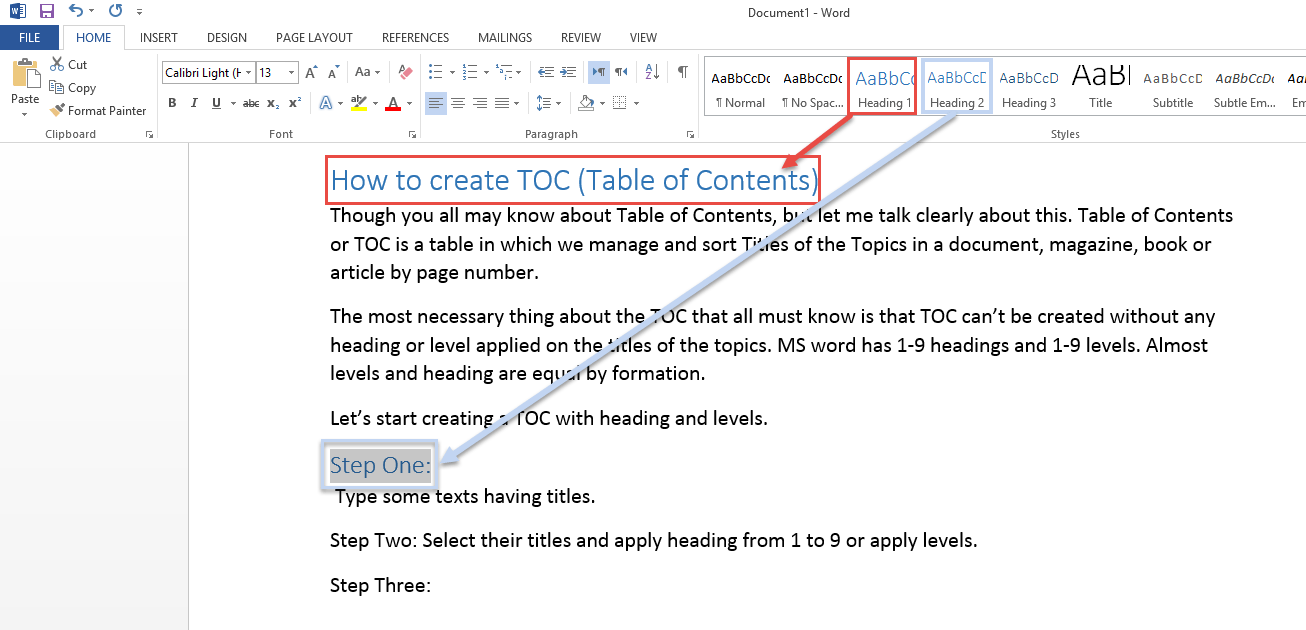 Step Two:
After Applying levels and headings to the titles of the topics and Chapters, Click a place where you want to add a Table of Contents.
For Creating TOC go to the REFERENCES Tab and Table of Contents Group.
Click on the First Option to view a pre-designed list of TOC.
Select a type from the list, it will automatically create a table of contents.
See the picture below:
You can see our Table of Contents as an example below:

Add more Levels and Headings
If your list of contents is incomplete and you cannot see titles with heading or level more then heading / level three then do the following:
Go to REFERENCES Tab, Table of Contents Group.
Click on the drop-down button and Choose Custom Table of Contents From the end of the list.
Go to Show Levels: and turn that from 3 to 9.
As picture below;
Please ask your questions and share your View with us through comments.