The articles is going to explain how to convert exe to msi format? There is no any specialized built-in tool in Windows to convert exe to msi for installing software with Group Policy. Software deployment through Group Policy in Windows Server required Microsoft Installer (msi) file format. Most application are exe file, but it's not supported by group policy to deploy on clients machines on the network.
Here are some free and paid software that help you to convert exe to msi files easily and make deplorable through group policy. The free versions of these software are has limited features, but the premium versions are full features for enterprise software deployment.
How to Convert Exe to MSI Package?
The below software make your work easy when you need to change Exe to MSI format. Just download and install one of these tools and try to covert exe to msi package.
The MSI Wrapper tool let you how to convert exe to msi package of any exe software. Go to exemsi site and download the free version of MSI Wrapper. It specialize in converting executable setup programs to MSI packages.
System administrators often prefer MSI over a normal setup.exe. MSI packages are better suited for software distribution through Active Directory group policies.
The target audience for this web site and it's tools is divided in two main groups:
Software developers who have a setup.exe and want to offer an MSI that wraps their original setup.exe.
System administrators with a setup.exe they want to distribute as an MSI to client computers in their organization.
The MSI Wrapper is the tool that makes it easy to convert an executable setup program to an MSI package.
1. Open the MSI Wrapper on Windows and click Next on the welcome page.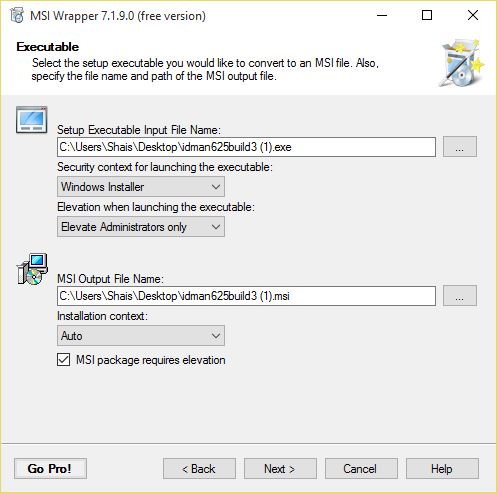 2. Select the exe software form Setup Executable input file name section. Select Windows Installer under Security context for launching the executable then specify the output location and click Next.
3. On the Application Ids page, look up for installed software on your computer. In this case I have testing on Internet Download Manager. Then click Create New to create an upgrade code and click Next.
The application id and upgrade code are needed to identify the installation packages when you upgrade and uninstall the software.
4. Click Next on Properties page.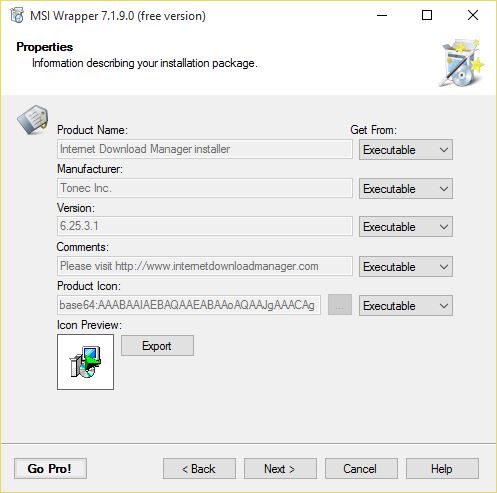 5. You can specify a help link, update information link, about link, and contact information for this msi package. You can click Next without specifying any links.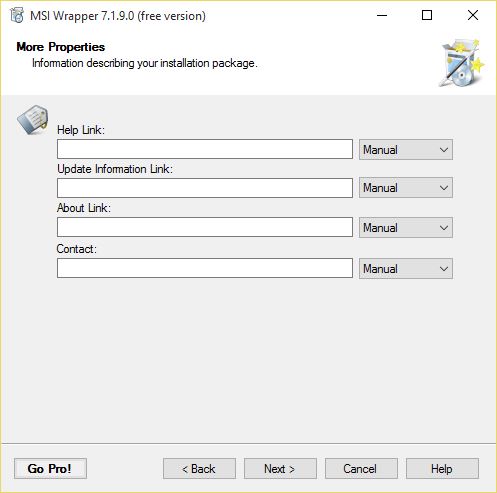 6. On the Parameter page click Next. If you have pro version, you can do more with msi file.
7.  The summary page shows you what you have selected. Click Build to create the MSI file and click Exit to close the MSI Wrapper tool.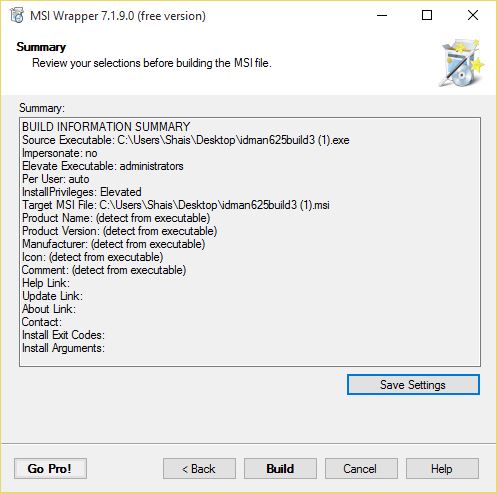 Finally, the exe file should converted to MSI file. Right click the output msi package and see the result.
That is all about how to convert exe to msi package to install software with Group Policy.
If this software is not help you to create msi package from an exe file. I recommend you to use Advanced  Installer.
This is a unified package containing the complete Advanced Installer application, which includes Freeware, Professional, For Java, Enterprise and Architect features. Freeware features can be accessed at any time by creating a project of type "Simple".
Creating any other type of projects requires non-freeware features. These are fully enabled during the trial period, after which you must purchase a license to continue using them.
There more tools that help you to convert exe to msi. You might now better tools and let us know.