This research focuses on how to become System Administrator of the most popular operating system, Windows Client, Server and other Microsoft Products. I have written this for new IT students and because of the variety of jobs and duties of Microsoft Certifications. Next, we will talk about how to become a Linux System Administrator also.
The System administrators duties are supporting clients machines, designing, installing and configuring the company's network devices and computer systems. It is mostly in local area networks to basics of wide-area networks. System administrators must work long hours to keep alive and make sure the systems are working correctly and business will not fail. You also need to have good skills in problem-solving, communication, multi-tasking and system analytical skills, familiarity with network relevant software, network monitoring and security, ability to use tools like network analyzers, cable accessories, server NLB and server Fail-over, Virtualization and Cloud computing.
Want to Become System Administrator?
The most important point of this subject is you want to become a system administrator. This is all good, but what systems do you want to become an administrator? Linux, Windows, Mac OS or another operating system? In this topic, we are going to explain who to become Microsoft Products System Administrator.
For Windows client operating system like Windows 7, Windows 8 and Windows 10 and Windows Servers such as Windows Server 2003, Windows Server 2008, Windows Server 2012 and the latest on Windows Server 2016, you need to follow Microsoft Certifications. Microsoft has many certifications for Windows client and Windows Servers. Fortunately, it's not required to study all, just select some certification and pass the exams.
Microsoft Certified Solution Associate
There are two levels on Microsoft Certifications, Solution Associate and Expert. The Solution Associate level is fundamental of Expert level. You must pass it successfully in order to go for the Expert level. Before starting with Microsoft certification, CompTIA Network plus is a most valuable certificate to help you easily understand and pass MCSA and MCSE exams.
Let's explain most recent Microsoft system administrator certifications MCSA on Windows and other server software.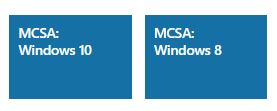 1. MCSA on Windows 10 and Windows 8
This is for the client-side operating system (Desktop Devices) only that prove you have the expertise to configure, manage, and maintain a Windows 10 enterprise system. Currently, Windows 10 has only one exam Configuring Windows Devices. But there are two exams for Windows 10 one is Configuring Windows 10 and the other is Supporting Windows 10.
Note: It is not necessary to study both Windows 10 configuring and 8.1 configuration exams. One is enough for work and achieving MCSA for Windows Servers. 

2. MCSA on Windows Server 2012 and Windows Server 2008
This is the server-side of the operating system on a network. You will find the ability to install and configure the network infrastructure services, protocols to advanced administration on Windows server 2012 R2. All installation and configurations are the same with Windows server 2008, but some changes on new features and services. The exams you need to pass for MCSA Windows Server 2012 are:
Installing and Configuring Windows Server 2012 – Exam 410
Administering Windows Server 2012 – Exam 411
Configuring Advanced Windows Server 2012 Services – Exam 412
If you already have the MCSA Windows server 2008, you can upgrade to MCSA 2012 only with passing one upgrade exam. And for a new participant to achieve MCSA, I recommend you to focus your study on Windows Serve 2012 R2 and do practice on Server 2008 also.
For work and jobs, one MCSA 2012 or MCSA 2008 is enough and do not require to have both at the same time because you are system administrator, not exact Windows server 2012 administrator.

3. MCSA on SQL Server, Office 365 and Linux on Azure
It is better to follow the links for MCSA SQL Server 2012 and 2008, MCSA Office 365 and MCSA Linux on Azure. You can find the complete description on Microsoft website.
Microsoft Certified Solution Expert
The Microsoft Certified Solutions Expert (MCSE) is a globally recognized standard for IT Professionals. It is the high level of System Administration certification to become a system administrator. The MCSE Enterprise Devices and Apps is the MCSE Desktop infrastructure level of MCSA on Windows 10 and 8.1.
It validates that you have the skills needed to manage devices in today's bring-your-own-device (BYOD) enterprise. It qualifies you for a career path which can range from traditional desktop support technician to enterprise management of BYOD devices and apps. You need to pass two exams to become MCSE. The first one is Deploying Windows Desktops and Enterprise Applications and Administering System Center Configuration Manager and Intune

MCSE Server Infrastructure
To study and get the MCSE Server Infrastructure, you should pass the tow exams of MCSE and for exams of MCSA. MCSE Server Infrastructure Exams are:
Designing and Implementing a Server Infrastructure  Exam 413
Implementing an Advanced Server Infrastructure Exam 414
For other MCSE follow the links of MCSE Private Cloud, MCSE Messaging, MCSE Communication and MCSE SharePoint server. Hope it will help you to find your way on Microsoft Certification and Exams.