How to Forget WiFi Profile on macOS Devices
The WiFi network profiles are changeable and removable on any operating system. This tip shows you how to forget WiFi network profile on macOS devices. It is often necessary to remove the saved WiFi network profile in order to reconfigure it with a new password. In OS X 10.8 or above, remove the profile through System Preferences. This requires administrative rights on the computer.
Forget WiFi Network Profile on macOS
Forgetting wireless networks allow your computer to reset some settings, such as usernames, passwords, or configurations that may allow you to reconnect again. Follow the instructions below to learn how to forget a wireless network in OS X.
Click the Wi-Fi icon toward the upper right of your screen in the menu bar.
Now, Click on Open Network Preferences.
Click the Advanced button.
Then, Click the Wi-Fi tab.
Select the network(s) you'd like your Mac to forget.
Click on the minus (-) button.
Click on the OK button.
Finally, Click on the Apply button.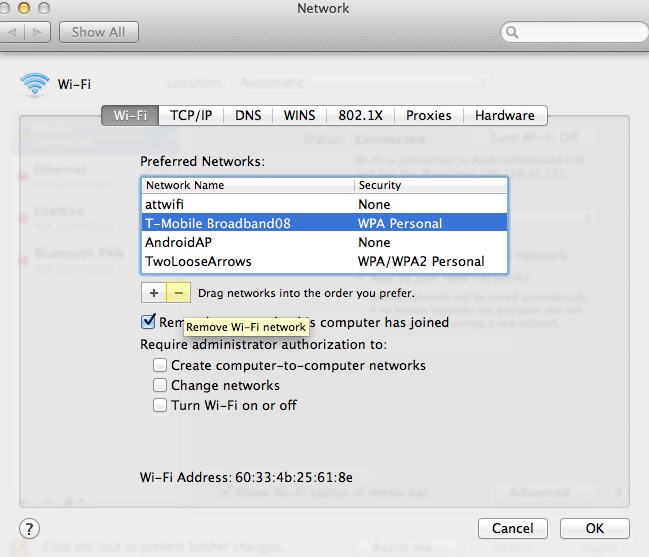 In your macOS, you can also reconfigure which networks are connected to first by clicking and dragging the WiFi network to the top of this list.
We suggest deleting WiFi-Setup or moving WiFi to the top as your preferred wireless network for easy access to the internet.
How to Delete a Wifi Network Profile?
In macOS operating system, by default, your Mac attempts to join the wireless network it was most recently connected to. The wireless networks your computer has connected to are listed in the Wi-Fi pane of Network preferences.
Select the WiFi symbol along the top menu bar and click on Open Network Preferences at the bottom of the drop-down menu.
Click on WiFi in the menu on the left and click Advanced located at the bottom right of the pop-up window.
Select the WiFi network you want to delete, and click the minus sign as indicated in the image below. Click OK.
If you're in an environment with more than one wireless network, you can set up your Mac to join a preferred network when you start your computer, wake it from sleep, or turn Wi-Fi on.
In case you have any issues with removing the saved wireless network profile, please comment us for further related assistance to forget a wifi network on MacBook.