How to Easily Digitize DVD to MP4 with Free Winx DVD Ripper
How to Rip DVD to MP4 on Windows 10 or Mac Computer Free and Easily?
Your all in one tool to easily digitize DVD to MP4 or convert DVD to MP4 using WinX DVD Ripper. For almost 20 years, DVD Discs was popular for storing almost up to 9 GB data inside it. These discs were used for recording different purposes such as entertainments, programs and many more valuable things, and replaying and remembering the moments through DVD Players. Still,
people use these discs to renew the old memories they have recorded in DVD discs, but these Discs have lost their high usage peak before other new technologies launched in the market.
Today, due to the defects of the DVD Discs, most of the people convert these discs into other soft formats such as: digitize DVD to MP4, AVI, WMV, FLV, MOV, MPEG, H.264 and MP3. DVD Disc defects can be listed as below:
Disadvantages of DVD Discs
Can be easily broken: DVD discs are thin and vulnerable. They can be broken by adults or children, and all memories are dismissed.
DVD discs, if scratched or aged, also are not useable and errors might occur while playing them.
More fun moments, more physical space: The more you record your moments, the more DVD discs you need. You can imagine if you record every minute or hour of your joys as you do today, you will be needed a DVD disc storeroom for your memories.
Regional Specified: Some types of these discs may be coded with a specific number that DVD players with the same specific code can play them.
Required specific drive and decoder: MPEG2 Decoder and DVD Drives are needed to play a DVD disc's content.
The problems listed above are solved with the progress and succeeds in technologies. Now you have MP4 or other soft formats for your videos, other types of storage for storing your data and common or shared platforms to play different types of recordings of your joys, entertainments or data.
We, now know that DVDs are hard to have stored along with having other defects and why people are on the mission to digitize DVD to MP4, so we need a great and reliable DVD to MP4 ripper to convert to MP4. One of the best DVD to MP4 ripper which can help you easily digitize your DVD discs or convert them to MP4 is WinX DVD Ripper developed by Digiarty WinXDVD.
WinX DVD Ripper Specifications and Features
Definitely, WinX DVD ripper would be your first and last choice after knowing all great features. With 350+ profiles, you can digitize and rip DVD to MP4, H.264,  HEVC, AVI, MOV, MKV, MP3 and other digital formats for perfect playback on any electronic devices you own, be it iPhone, iPad, Samsung, Huawei, Surface, Xbox, PSP, Apple TV, etc.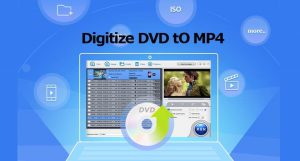 Plus, with the unique support for level-3 hardware acceleration, WinX DVD Ripper dramatically improves the DVD ripping and copying speed while keeps a low CPU usage of your computer.
Specifications
Supported DVDs: It can support different types of DVDs like old scratched, homemade, commercial, ISO Images, DVD folders, etc. WinX DVD Ripper can even digitize Disney's Fake 99-title DVDs which is largely applied to movies, workout DVDs and Japanese AV DVDs to make optical discs. 99-titled DVDs are not playable on some players and it can shorten the DVD life if decoded with wrong schemas.
Supported Outputs: WinX DVD Ripper can digitize DVD to famous MP4, H.264, AVI, MPEG or etc.
Preloaded Profile: Many brand profiles are added into it that might vary over 350 such as iPad, iPhone, Apple TV, Samsung, Sony, Huawei mobiles, tablet PC, gaming consoles, etc.
Settings & Editing: You can have flexible and effortless controls over audio-video formats, qualities, Sample Rates, Frame Rates, resolutions, etc.
5 min ripping/conversion: WinX DVD Ripper offers the fastest and turbo speed for digitizing your DVDs to different formats applied to Hard Drive, Media Players, YouTube, editing apps, mobile-specific MPEG / H.264 / HEVC outputs for iPhones, iPads, Android phones, HDTV, game consoles and other types.
Operating System Support: Windows 10 (32 & 64 bit) or lower (optional: Download free Mac DVD ripper if you are running OS X)
Unique Features
WinX DVD Ripper is here with some unique type conversions that can be fun and great.
1:1 DVD to ISO:
The special ISO image output enables you to make an uncompressed and genuine digital copy of your DVD while keeping the original structure without a shred of quality reduction. The awesomeness is that the ripped file can be further created and burned to another optical disc or act as a virtual CD/DVD drive.
1:1 DVD to MPEG2:
WinX also provides main DVD title to a single MPEG2, as a similar quality-lossless option.
How to Rip a DVD to MP4 with WinX DVD Ripper:
Here are some steps to digitize a DVD disc to MP4 or other formats with WinX DVD Ripper:
Step1: Download
You can easily and free download a licensed copy by clicking the "Free Download" button from WinX DVD Ripper homepage.
Step2: Installation
Install the WinX DVD Ripper. Basic Guide is available here.
Step3: Convert (Windows)
Add the source DVD or ISO image and DVD video folder.
Select any format from the profile, for MP4 Conversion, select MP4 Video
Default Output folder is: C:\Users\You Account\Videos\WinXVideos\, You can choose another folder.
The final step: Click on the RUN to digitize and rip the DVD to MP4.
Check more guide on ripping DVD to MP4 on Windows/Mac.