What security software totally can protect your system in 2020? The antivirus software companies provide best free antivirus software to protect their client's computers against malware, viruses, rootkits and any malicious threats. Here we test the most trusted free antivirus software for 2018. All of these free antiviruses have the ability to protect your system data over the internet and local malicious activity.
"The best things in life are free," they say. But they also say, "You get what you pay for." Which is right? Within the antivirus realm, both. You can get very good antivirus protection for free, no question. But if you pony up the cost of a premium antivirus utility, you can get even more protection. If free is what your budget allows, we can help. Here we just bring you the top 10 best free Antivirus software for 2020.
Best Free Antivirus Software for 2020
The virus scans are a method which antivirus programs trawl through your files searching for suspicious and intruding files. This is a vital part of antivirus software, without the ability to scan you are leaving yourself open to threats. 100% free virus scans are a revolutionary way to check the status of your device. Uses are reviews and customer feedback to help choose your provider. We want to make sure you can scan your PC for free and if required get fully protected.
What is the best free Antivirus Software for 2020?
AVAST Free Antivirus
AVG Free Antivirus
Avira Free Antivirus
Bitdefender Free Antivirus
Kaspersky Antivirus
Microsoft Security Essentials
Panda Free Protection
Sophos Home for PCs and Macs
Baidu Antivirus
Comodo Free Antivirus
What you require is an ideal antivirus programming on your PC. Thanks to the lucky stars, as the giant leaders in the security industry, to deliver their best products for free.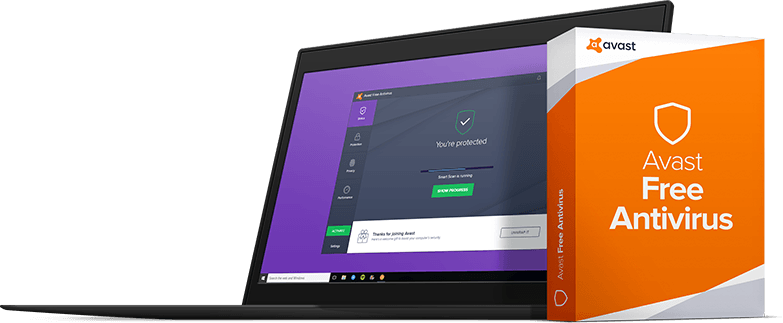 1. Avast Free Antivirus Software
Avast is an antivirus software developed by a Czech Security company called Avast Software. The company was founded in 1988 so has been around for almost 2 decades! Within this time the software has had plenty of peaks and troughs like any normal company, but it's coming into its own now! As of 2016, Avast! had 400 million users and around 40% of the market share (outside of China). With offices in the US, Germany, China, South Korea and Taiwan is a giant. Last month (September 2016), Avast bought AVG for $1.3 billion!
You can find Avast antiviruses in three different editions. The first one is Avast free antivirus, the second is Avast Internet Security Software and the third one is Avast Premier.
Avast Free Antivirus features: 
Block viruses and other malware: Detect viruses, ransomware, and other threats in real-time.
Scan for Wi-Fi security weaknesses: Expose intruders and security weaknesses in your network.
Secure your passwords: Lock your passwords in our vault and log in to sites with 1 click.
Avast Internet Security Edition Features:
Avoid fake sites for safer shopping: Stop criminals from stealing your passwords and banking info.
Safely run suspicious apps: Sandbox any app to avoid affecting the rest of your PC.
Block hackers with an advanced firewall: Stop hackers from sneaking onto your PC to steal your data.
Block annoying spam and phishing emails*: Stop annoying junk mail for a safer, cleaner inbox.
NuGet an extra layer of ransomware security: Keep personal photos and files safe from unwanted changes.
Avast Premier Features:
NEWStop webcam spying: Prevent peeping Toms from watching you via your webcam.
Permanently shred sensitive files: Securely delete files to ensure that no one recovers them.
Automatically update apps: Reduce security risks by keeping your other apps up-to-date.
The Avast Antivirus supports Windows, Mac, Android, iPhone/iPad, and Linux server. All the Avast security products are fast, light, and pack powerful features to give you the best protection that's easy to use and won't slow down your PC.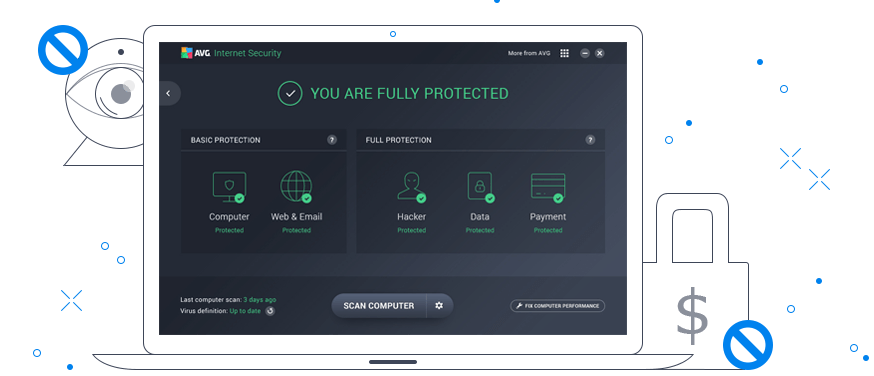 2. AVG Free Antivirus Software
The AVG is also supported by the Avast team. The same as Avast free edition, the AVG has free Antivirus as well. Free antivirus is great. But it gets even better. Whether you choose free or full protection, you've got impressive security that even updates itself automatically. And with a cutting-edge virus scanner that blocks and removes viruses, you can be reassured that you and your family are protected from the latest threats.
AVG AntiVirus Free Features: 
Essential free protection that won't let you down.
Stop viruses, spyware, ransomware & other malware

Block unsafe links, downloads, & email attachments

Scan for PC performance problems

Get real time-security updates
AVG Internet Security Features:
AVG best all-around protection for all your devices.
Stop viruses, spyware, ransomware& other malware

Block unsafe links, downloads & email attachments

Scan for PC performance problems

Get real-time security updates

Secure personal folders with an extra layer of ransomware protection

Prevent peeping Toms from watching you via your webcam 

NEW

Keep hackers away with Enhanced Firewall

Avoid fake websites for safer shopping

Includes AntiVirus PRO for Android
You can find AVG Antivirus for Windows, Mac OS, Android, iPhone/iPod and for business Antivirus.
3. Avira Free Antivirus Software
Power your digital life with this all-in-one free package. Avira Free Security Suite secures your activities, shields your privacy, and delivers instant time-saving gains on everyday tasks. The Avira Free Antivirus shields you from malicious infections, worms, Trojans, spyware, adware, and different sorts of malware, making it a completely utilitarian anti-malware system and one of the best free antivirus programs. It supports Windows 10, 8, 7, Vista, and XP operating system. Avira Free Antivirus has a propelled heuristic mechanism which is a component not generally found in most of the free antivirus devices. Above all, it is also pliable to support Mac operating systems.
All the Essentials Feature with Avira Free Antivirus: 
Avira Free Antivirus: Stay safe, always
Phantom VPN: See more of the web
Safe Shopping: You can only save if you shop safely
SafeSearch Plus: Search faster & smarter
Password Manager: Forget remembering passwords
Free System Speedup: Rediscover your lost speed
Software Updater: Stay up to date
The Avira support Windows, Mac OS devices, Android and iOS devices. Manage all your high-performing digital tools, and benefit from 24/7 health checks across multiple devices – from one central online dashboard.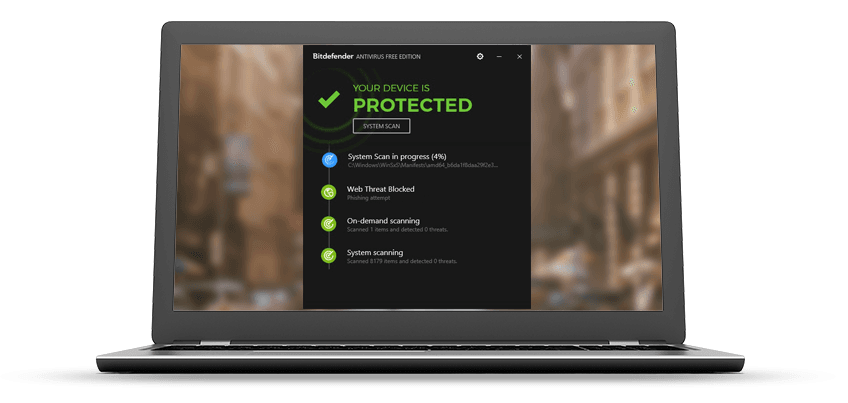 4. Bitdefender Antivirus Free Edition
Powerful protection, the light way. The Bitdefender make the Internet safe for you. You can be sure all threats are taken care of when you browse the web. It uses advanced technologies such as machine learning to protect you from phishing and other types of fraudulent content. Bitdefender, over the last few years, has been one of the most highly regarded antivirus products, and for good reason. A relatively new company, compared to others in the antivirus space, Bitdefender have quickly established themselves as one of the leading brands with over half a billion installs / active users to date.
Bitdefender Antivirus Features: 
Virus Scanning and Removal: On-demand & on-access scanning – powerful scan engines ensure detection and removal of all malware, from viruses, worms and Trojans, to ransomware, zero-day exploits, rootkits and spyware.
Advanced Threat Detection: Bitdefender Antivirus Free uses an innovative technique called behavioural detection to closely monitor your active apps. When it detects anything suspicious, it takes instant action.
Anti-Phishing: Bitdefender Antivirus Free Edition sniffs and blocks websites that masquerade as trustworthy in order to steal financial data such as passwords or credit card numbers.
Anti-Fraud: Our advanced filtering system warns you whenever you visit websites that may try to scam you, such as casinos, porn sites, money loan schemes and others.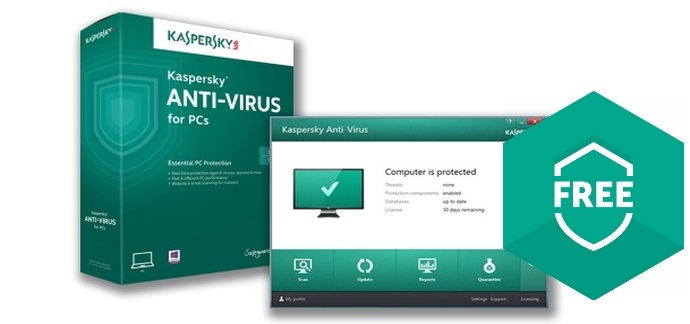 5. Kaspersky Free Antivirus
Kaspersky Free Antivirus software offers both the lowest system impact and some of the best malware-detection rates recorded. It even provides extra security features, including parental controls and options to lock down your webcam and stop websites from tracking your browsing activity. If you're willing to pay to protect your computer from malware, Kaspersky Internet Security is the best option available.
Kaspersky Features: 
AWARD-WINNING SECURITY: Protects against viruses, spyware, phishing and dangerous websites.
PROTECTION THAT PERFORMS: Combines security and efficiency – so your devices can keep performing.
SECURITY FOR PC, MAC & MOBILE: Protects all your devices – with just one license for you to buy.
PRIVACY PROTECTION: Helps prevent others from intruding into your private life.
SAFE MONEY: Adds extra security when you shop or bank online – on PC or Mac.
SECURITY FOR KIDS – ON PC & MAC: Blocks inappropriate content and helps you manage the use of social networks
TECHNICAL SUPPORT: Easy access to security experts.
Kaspersky Antivirus 2018 provides basic protection for your computer without slowing it down. It includes antivirus scan of files, software, and websites, аnti-phishing, protection against ransomware, control over internet traffic, vulnerability search, free automatic updates and upgrades to the latest version.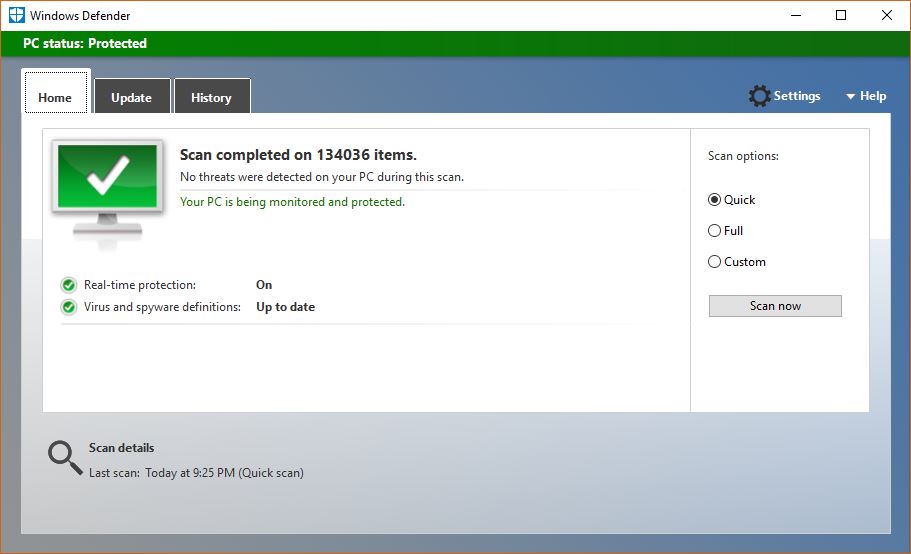 6. Microsoft Security Essentials
The Windows Defender is built into the latest versions of Windows and helps guard your PC against viruses and other malware. The Security Essentials from Microsoft is certainly one of the best free antivirus programs. Security Essentials is a top-notch antivirus program that shields you from a wide range of malware, easy to use, and gets updated on threats automatically.
Two good reasons for Microsoft security essentials to top the list are:
Comprehensive protection: Microsoft Security Essentials helps defend your computer against viruses, worms, Trojans, and other malicious software and provides you with free spyware protection.
Easy to get, easy to use: Microsoft Security Essentials is available at no cost, so there's no registration process that requires billing or personal information collection. It installs after a quick download and then stays automatically up to date with the latest spyware protection technology and signature updates.
Quiet protection: Microsoft Security Essentials doesn't get in your way. It runs quietly in the background and schedules a scan when your computer is most likely idle. You only see alerts when you need to take action.
Note: In Windows 8, Windows Defender replaces Microsoft Security Essentials. Windows Defender runs in the background and notifies you when you need to take a specific action. However, you can use it anytime to scan for malware if your computer isn't working properly or you clicked a suspicious link online or in an email message.
Related: Top 10 Best Android Cleaner Apps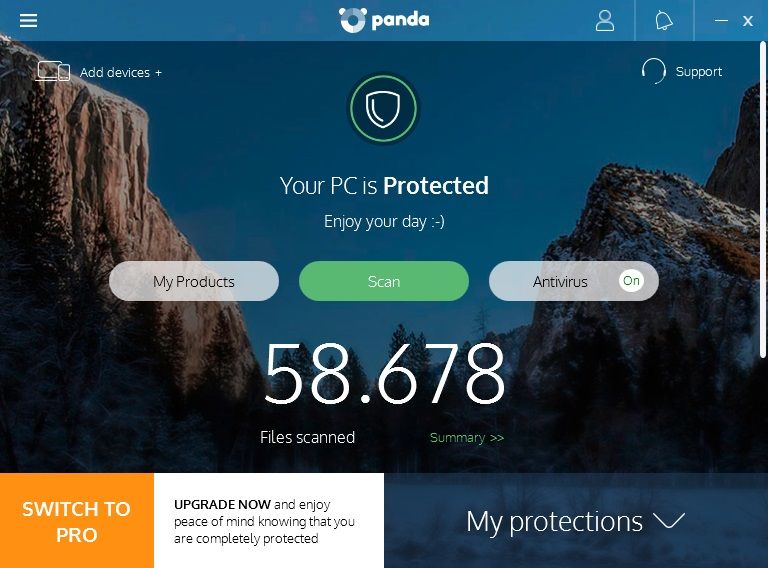 7. Panda Free Antivirus
Panda Free Antivirus protects you while you work, play, or browse the Internet. Panda Protection which was once known as Panda Free Antivirus is another best antivirus on this list. It delivers absolute free protection to defy the most challenging unknown threats. Works well at par with another free antivirus we have identified.
Panda Protection Features: 
Antivirus for your Windows and Android devices
Protect your Wi-Fi connection from hackers and piggybacking neighbours
Protect your kids on the Internet with parental controls
Shop online with complete safety
Protect your photos and personal data against ransomware
If you browse the Web from your smartphone or shop online, you need more advanced protection.

8. Sophos Home for PCs and Macs
Protect all the computers in your home with the free Sophos Home. The same antivirus, malware protection, and web filtering technology trusted by hundreds of thousands of businesses are now yours to take home.
Sophos Home Features: 
Stop malware, viruses, ransomware, and malicious apps
Block unwanted web content, phishing attacks
Easily manage computers located everywhere from anywhere
Works on both Windows PCs and Macs
The Sophos Home for PC and Mac is not the only free tool of Sophos company. You can find more free security tools like Mobile Security, HitmanPro – Malware Removal Tool, Sophos XG Firewall Home, Virus Removal Tool, and Sophos Antivirus for Linux Free Edition.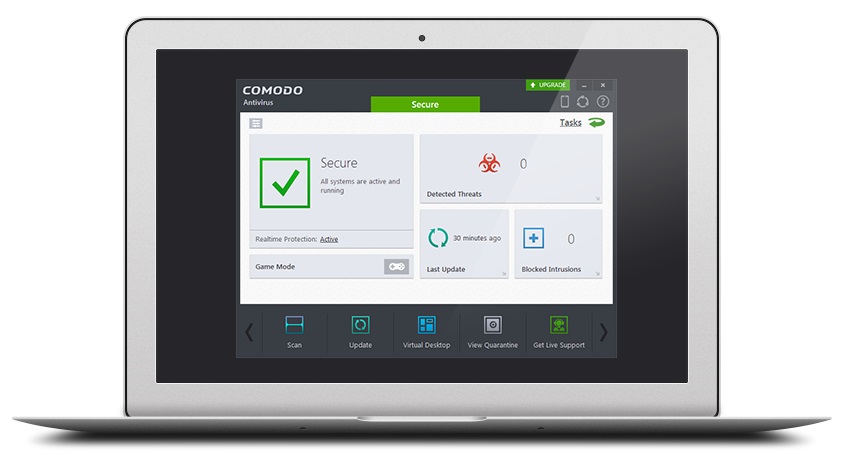 10. Comodo Antivirus
Comodo Free Antivirus combines the best-patented protection technologies in one comprehensive package that secures your everyday activities while increasing your productivity. It is a perfect security tool to protect your computer from getting infected.
Comodo Free Antivirus Features: 
Complete Malware Protection
Auto Sandbox Technology
Defense Plus
Secure Shopping
Host Intrusion Prevention (HIPS)
Fast, Cloud-Based Scans
The Comodo's free antivirus provides the best protection from malware instances, virus infection and suspicious hidden files. It is reliable, cloud-based protection that scans quickly and updates continue to include the latest malware information from around the globe.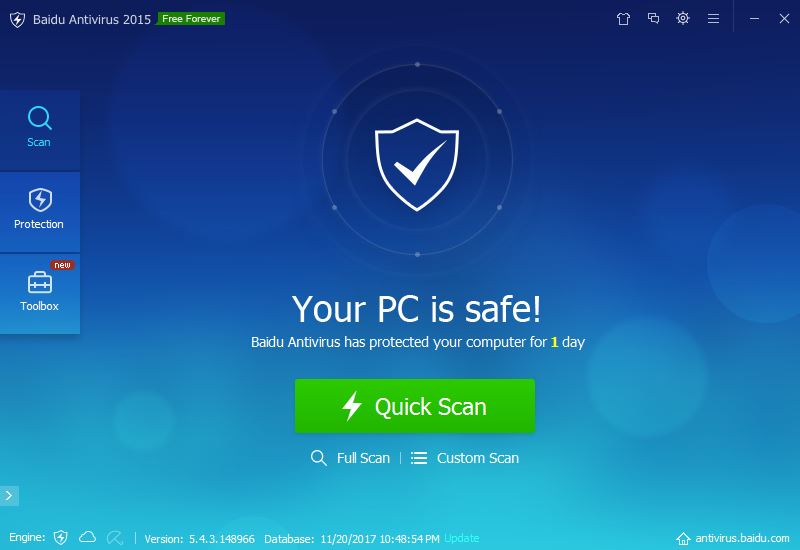 9. Baidu Antivirus
Baidu Antivirus combines local proactive defence features with its powerful cloud engine. With Baidu intelligent technology, you can directly monitor a program's behaviour locally to determine if it is a virus while dynamically identifying and characterizing the code in the cloud to quickly and accurately eradicate it.
Baidu Free Antivirus Features:
Malicious Plug-in Cleaner: Easily remove more than 300,000 malicious plug-ins to make your PC faster and cleaner.
System Repair: Quickly repair system problems, and increase your computer's speed.
Network Traffic Monitor: Monitor network traffic usage, and manage running programs in real-time.
Browser Protection: Prevent your homepage and browser from being maliciously changed.
The Baidu best free Antivirus software is 100% free, forever. Keep your computer safe with our award-winning security as long as you want, at no cost. Our upgrades, cloud file scanning, and new virus definitions are always free.
Conclusion:
There are many best free Antivirus software that is not available on this list such as Eset Antivirus, McAfee, BullGuard, Ad-Aware, PCProtect, TotalAV, ScanGuard, ZoneAlarm, and others. These are also the best antivirus software but doesn't have a fully free edition.